What Is Website Migration? 
Website migration is the process of switching your website from one hosting provider to another or from an old server to a new server where your website will be hosted. Yuan Jhen Information offers a free website transfer service with a quick turnaround time for your WordPress website migration. There is no need to install any plug-ins or assistance with domain settings and other website transfer issues. So you don't have to be concerned about affecting the website's operation or other problems.
Website Migration Tutorial 
This tutorial shows how Yuan Jhen's free website transfer service works, and some importing points should be noted to ensure a smooth website transfer:
Secure Backup Website Data Mechanism
Before transferring the website, confirming that the website file or database is compatible with the new hosting plan is necessary. Then, Yuan Jhen's team will use the premium backup mechanism to back up website files. It is required to fill out the form with the old hosting login information so that Yuan Jhen can directly log in to help you confirm whether the website files and databases are suitable for the new hosting you ordered, backup file and database backup, and then moved to Yuan Jhen's hosting to restore the website. If you cannot provide the old hosting login information, you can back up the website and send us the full files.
Website Migration: File/Database Transferring 
Yuan Jhen will migrate the website's files and database to your new hosting solution at Yuan Jhen and adjust the related configuration files to ensure that your website can be accessed regularly after receiving your free website transfer form and confirming that your website can be logged in normally. Many people believe that a website cannot be accessed while it is being migrated. However, a website can be opened and loaded normally, and transferring your site will not disrupt your site.
Domain Settings 
If you provide the login information of the domain registrar, Yuan Jhen can help you set up the DNS. In some cases, domain registrars do not provide an online DNS management function. You need proactively contact the domain registrar to confirm whether you have the authority to change the DNS information for your domain. It is also feasible to point your DNS to Yuan Jhen's hosting. Anyone who purchases a domain from Yuan Jhen or transfers a domain to Yuan Jhen can use the free managed DNS service.  
Free Website Migration Step-by-step
Step 1: 
Select and apply for a web hosting solution from Yuan Jhen's official website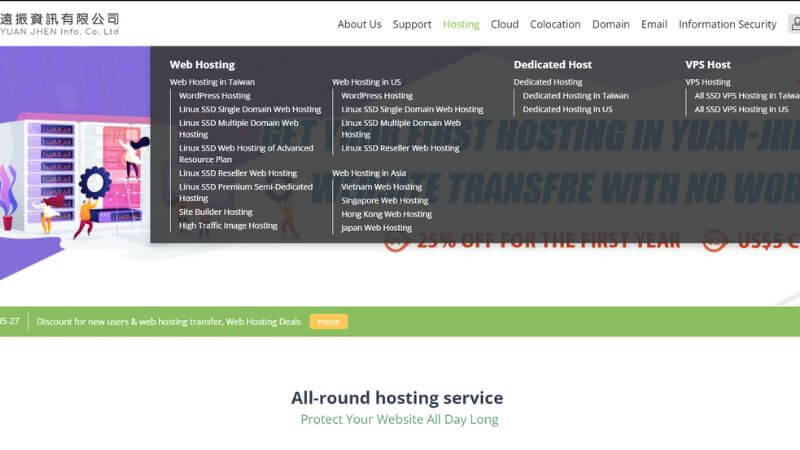 Step 2:  
Choose the free website service at Available Addons when ordering a web hosting solution, and complete the application process.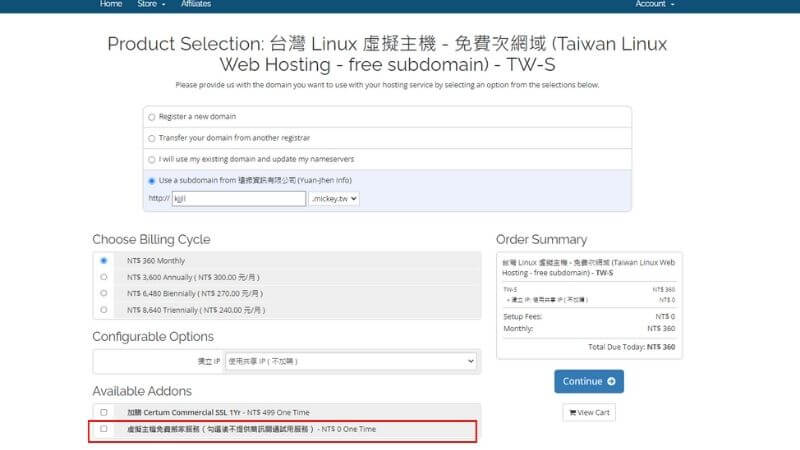 Step 3:
After completing the web hosting order, fill out the free website transfer service form before payment. Please be sure to fill in the old hosting login information on the form so that Yuan Jhen Information can confirm whether the website data files can transfer to the new hosting solution.  
Step 4:
After completing and confirming the transfer form, please submit it. Once you receive the [Free Website Migration Service of Web Hosting] notification email, you can pay the subscription fee for the hosting solution. The support team will process to transfer of your website once the payment is completed.
Conclusion 
There are multiple reasons you may need to transfer hosting, the most common of which is the quality of service provided by your current hosting provider.
Learn more about choosing the best hosting provider, running your website smoothly, and growing your business.
Please note that this service only allows for the free transfer of one website and one database. The additional fee is US$16.67 per website if the hosting server hosts multiple websites. Because each hosting environment is different, there is no guarantee that there will be no problems after the data import. Yuan Jhen only helps with file transfers. In some cases, program and database debugging may not be possible; please confirm compatibility before transfer to ensure your service.