What is website builder –  Site Builder Hosting?
You can easily create your website using a website builder. What about a high-quality hosting plan that includes website creation with no coding? Site Builder Hosting is a dedicated website design plan that consists of a website builder platform and web hosting designed specifically for customized websites. 
This website builder supports RWD, SEO, payment gateways, logistics, and bilingual features. Creating a personal website, an official company website, or even an online store is so simple.
You can import websites built with popular CMS such as WordPress, Wix, Webs, or other website builder platforms into Site Builder.
How to build a website from scratch
Creating a website by Site Builder Hosting at Yuan Jhen is so simple, you just need to follow 5 steps:  domain registration, choose web hosting, design the website, test the website, and publish the website.
Step 1: Register a domain
Yuan Jhen Information provides domain registration, domain name search, domain transfer, domain management, and other services.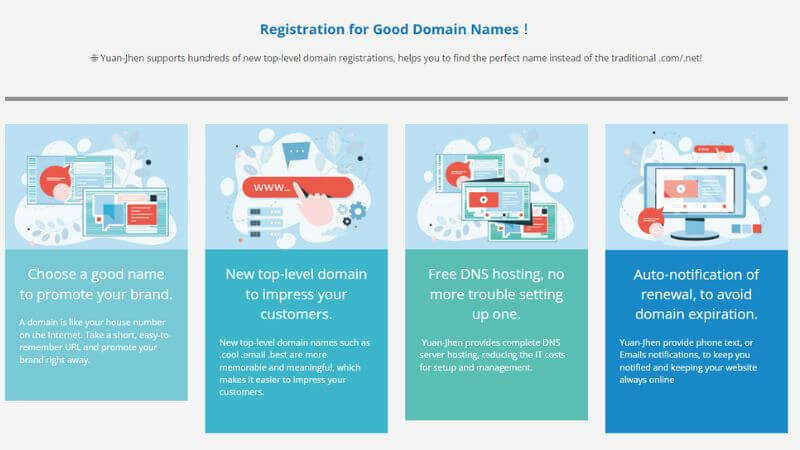 Come to Yuan Jhen to get a discount on a domain, register a domain without a hidden fee, and there will never be a price increase for domain renewal! When registering a domain name at Yuan Jhen, you will receive two free email hosting, free DNS hosting, and DNSSEC (Domain Name System Security Extensions).
A domain name is your website address that let people use to reach your website by typing your domain name into the address bar. Instead of using the long numerics of internet protocol address (IP), users are easier to remember the domain name. 
Structure of domain name:
Step 2: Choose a web hosting 
The next step of creating a website after registering the domain name is seeking a hosting provider to buy a web hosting service to host your website. The process will be shortened at Yuan Jhen with Site Builder Hosting.
Yuan Jhen Site Builder Hosting provides a reasonable price for a web design and hosting package. This solution is suitable for anyone with a limited budget who wants to build their own website. With this website builder plan, you can create a personal blog, portfolio website, company brand website, or even an e-commerce website effortlessly. The solution has unlimited disk space and bandwidth specification. It is managed by Yuan Jhen, who has over 15 years of experience and has been awarded ISO 27001 (Information Security Management System, ISMS) for many years. It can ensure your website data is protected against cyber attacks. 
Step 3: Using Site Builder Hosting to Create Your Website
Site Builder Hosting is a hosting service that includes a web design platform, as the name suggests. Thanks to the hosting plan's built-in website design function, users can easily control creating customized websites without coding. This plan includes 200+ professional templates from various industries, functional plugins, and extensive e-commerce features. Yuan Jhen's expert team will manage your website's hosting on a fast and stable server.
Suppose you are looking for plans that will allow you to create a professional website while also considering the quality of the hosting service. In that case, this Site Builder Hosting is ideal for you.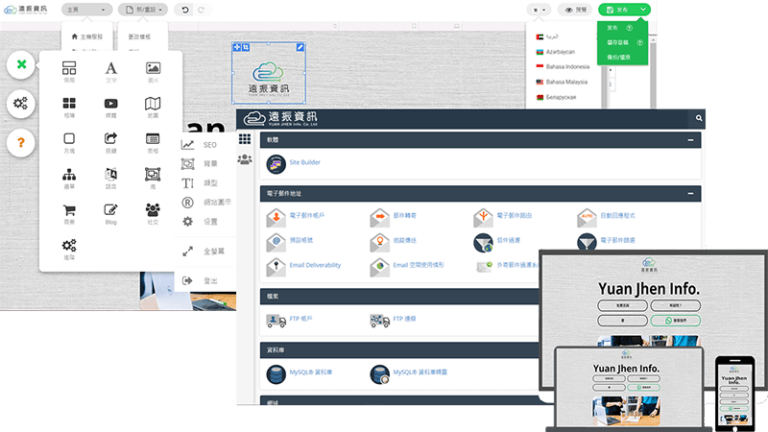 Create a website by Site Builder Hosting can get these offers:
For the initial year, new users receive a 25% discount and a credit of NT$150

(US$5)

Free SSL certificate

Free subdomain if you don't want to register a domain name

Free 15-day trial

30-day money-back guarantee
The features of Site Builder Hosting: 
Responsive Web Design (RWD): 

The responsive site looks convenient and readable on tablets, mobile phones, and desktops.

Search Engine Optimization (SEO):

easy to write meta SEO: descriptions, keywords, alternative text for images, anchors for elements, and embedding syntax features.

More Website Builder Features:

pictures, website builder gallery, maps, social media, etc.

100% While Label:

custom domain, logo, and footer by your brand.

Support 50 languages:

creating multilingual websites without extra cost.
E-commerce features of Site Builder Hosting:
Shopping carts and logistics services for domestic and international e-commerce

Online credit card payment

Third-party payment or integration COD cash on delivery

Invoice creation and integration

Currency and taxation regulations
Shopping carts and logistics services for domestic and international e-commerce:
Product and Order Management

Third-party payment or integration COD cash on delivery

Invoice creation and integration

Currency and taxation regulations
Digital marketing promotes the online store's function: 
Newsletter for email marketing

Popular social media: Facebook, Instagram, Twitter, Skype
What websites are appropriate to use for Site Builder Hosting?
Official brand website

Online shopping/e-commerce websites

Personal blog
Portfolio website

A lack of IT management personnel

Startups that have a tight budget