WordPress is a great platform for creating all sorts of websites. And when it comes to video websites, WordPress is the first choice for many people. If you're looking to create a website that will primarily feature videos, then you'll want to check out WordPress video themes.
We've put together a list of some of the best WordPress video themes that are currently available. So if you're looking to create a website that will be focused on videos, then WordPress is definitely the way to go.
Things To Know To Build A Video Website With WordPress
If you are serious about videography, then you should create a unique and professional website to showcase your work. This will get you more leads and business opportunities as a videographer.
Choose Reliable Hosting
A video website needs to deliver high-quality videos at a good speed. In order to do that, you have to choose a host carefully. As the performance of your website depends on the performance of your host. Choosing the best WordPress hosting is essential for uninterrupted service.
If you are looking for 100% uptime and great customer service [in case, you need any assistance to set up your hosting], Yuan Jhen WordPress Hosting is one of the best compared to others with the same price range.
Create Logo & Brand Identity
Create a logo and give your website a catchy title. The next thing you should do is change your site color. Play with different color combinations and settle on the color you like the most. Overall, you need to create a unique brand identity that everyone remembers.
Choose WordPress Video Themes
Now it's time to choose a WordPress video theme. You don't need to learn coding to create a video website with WordPress. But if you know to code, then you can customize everything. There are lots of options available and you can manage everything on your own.
The homepage of different WordPress video themes is totally made of different widgets. You can move widgets and set them wherever you like. It's possible to completely restructure the homepage using the available options.
Furthermore, you can make different categories for different videos. You can create your personal entertainment channels where no one but only you can post the videos. Finally, you can create a platform where users can register and upload their videos.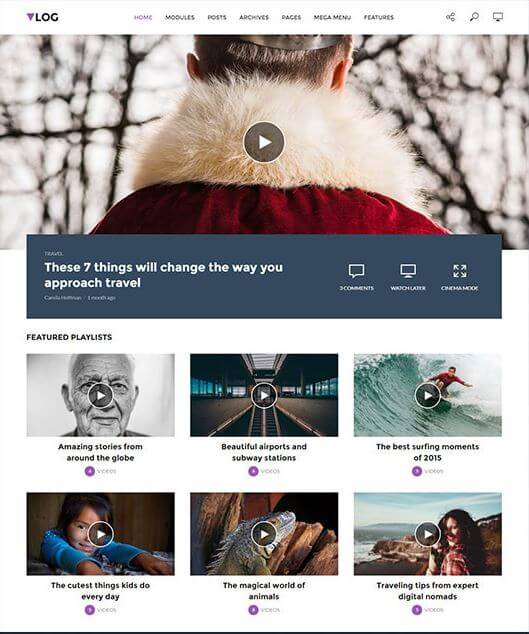 Vlog is a unique, powerful, creative, smooth, elegant, and responsive WordPress video blog website theme. It's good for webmasters and video bloggers in general that require a handsome, capable, and competent platform. So that they can display a range of variously sourced video content in different styles and configurations.
Vlog is the perfect choice for those who need a website for video blogging, podcasting, video courses, or even a website for sharing viral videos. This theme is fully compatible with all of the most popular video content platforms, including YouTube, Vimeo, and Dailymotion. You can also use this theme to create a sophisticated video magazine or news website.
With Vlog, you have the ability to showcase your videos and articles in any way you can imagine. The theme comes with a variety of sophisticated layouts and dynamic ways to present your content. You can also take advantage of the powerful video post format options to create unique and engaging video posts.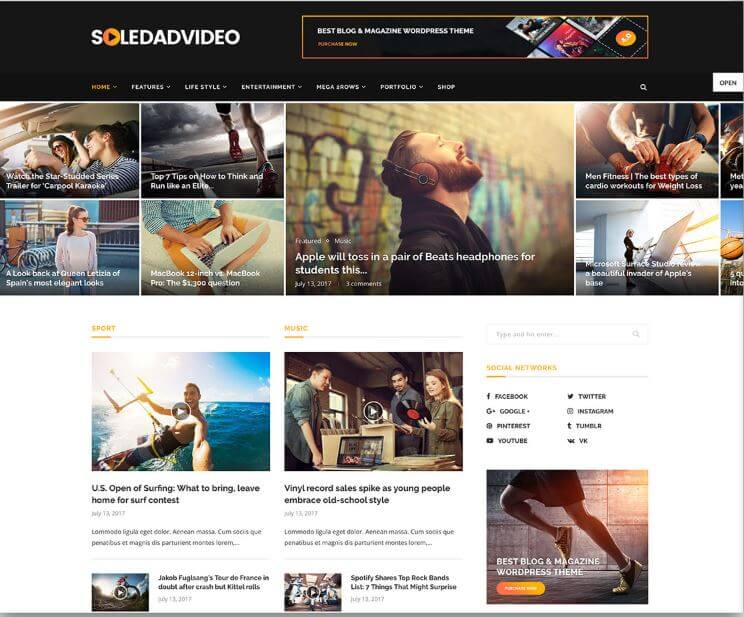 Soledad is another best WordPress video theme — in fact, one of the most popular WordPress themes for high-traffic websites. It is also the first WordPress theme that comes with Text to Speech plugin to increase versatility and flexibility.
Soledad has two admin user interfaces, the WordPress Live Customizer, and the Visual Composer. Soledad theme has over 6,000 homepage demos and 220+ pre-built websites including unlimited header layouts and appearances. Due to its exclusive templates, it is also considered one of the best WordPress Video themes.
So if you're looking for a theme that is easy to use, highly intuitive, and responsive, Soledad is a perfect choice.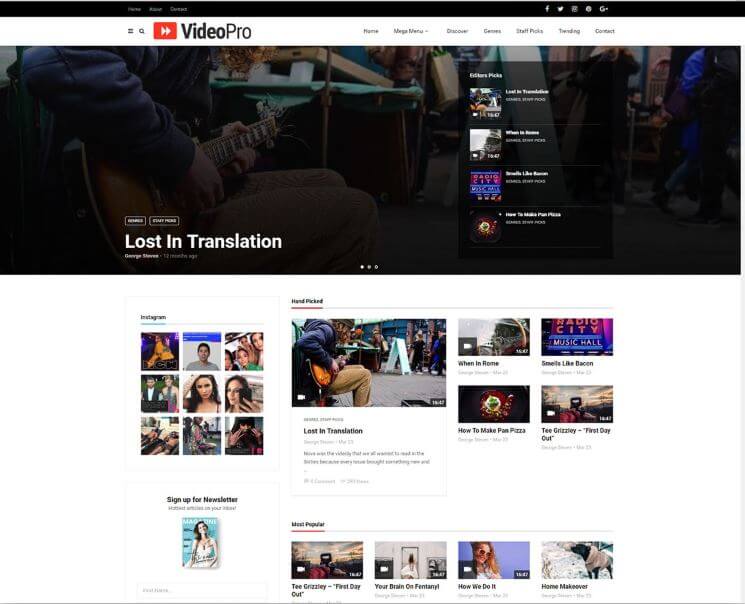 MagPlus is a flexible, modern, and responsive WordPress video theme. MagPlus is good for personal, and professional blogs, and online magazines. It is a great choice for those who want to create a high-quality website. The theme is packed with features that will make your site look great. Magplus is also responsive, meaning it will look good on all devices, from phones to tablets to computers.
Magplus comes with 40+ demos and unlimited layout options so that you can customize your website to meet the feel and looks. You can even engage with your audience more with 25 different article layouts, and 12 different header layouts.
Moreover, MagPlus loads fast even under high traffic. So, If you're thinking about turning your hobby into your profession, MagPlus definitely is the best choice.
PenNews is another great WordPress video theme that comes with exclusive features, layouts, and demos.It has tailored demos and polished templates. You can create a site in such a short time by just drag & drop.Make your site load faster on mobile with Google AMP. Articles load instantly on the news feed, and readers like the speed of Facebook Instant Article.
This theme also has auto-translation features and you can bring your site to new audiences in minutes. You can make your videos viral with this feature. PenNews theme handles all your media in the pixel-perfect presentation. With unique post styles, you can make your content shine.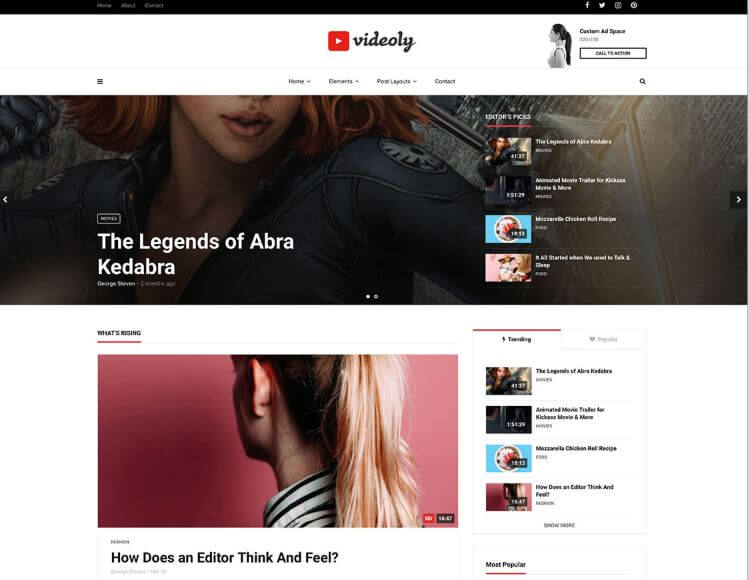 Videoly is a modern and new-edge WordPress video theme. You don't need to learn coding to customize this theme. This theme includes pre-built homepages for you. Videoly has 6 different slider styles and 10+ custom widgets. To give you the best graphical experience this theme offers unlimited color options.
You will get 650+ Google Web Fonts and WPML readiness. They offer good customer support. Videoly is very decorated, especially with video tutorials. You will be amazed to see elite author creation.
Vlogger is a professional tutorial WordPress theme. If you make video blogs, then this theme is for you. If you want to make online courses or video tutorials, then you can use this theme. You can add slideshows in every possible video format. It is mobile-friendly, fast, and responsive.
This theme offers social sharing, post like, and the number of views. You can also add a MailChimp newsletter. For your video courses, Vlogger has an exclusive tutorial interface. Vlogger will guide you through the creation process. If you want to do something with videos, then you can use this theme.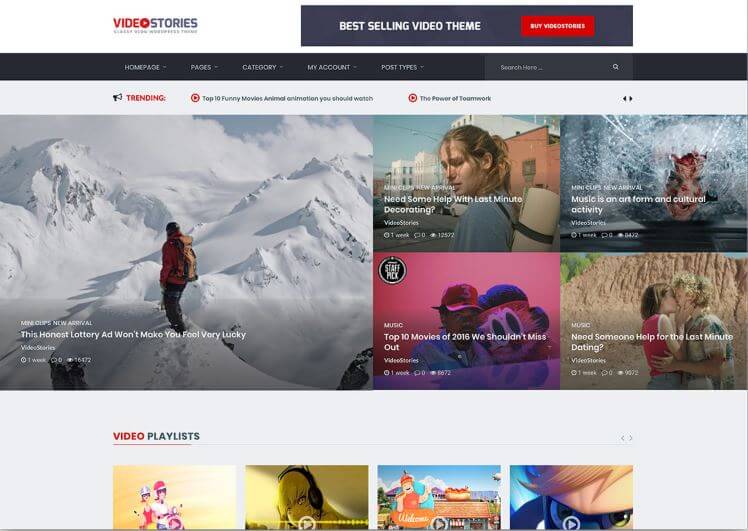 Videostories is another best WordPress video themes. It is designed for vloggers and video marketers. This theme offers 9 awesome homepages and a great drag & drop page builder, and visual composer. With its featured player, you can add videos from Youtube and Vimeo. You will also get an IMDB grabber and with this, you can get all the movie information.
This theme is SEO optimized. VideoStories has a modern and minimalistic style. It has 2+ movie pages and 3+ different types of single video pages to play. You will get translation easily with the WPML plugin.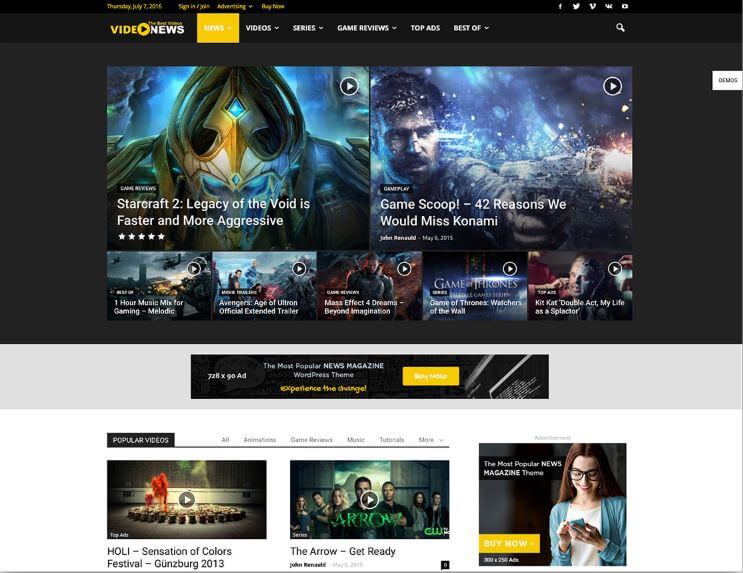 The newspaper theme is clean, powerful, and elegant. Being one of the most versatile WordPress themes, it gives you the power to broadcast your videos in a different way. You can create an online news portal or a website that contains protected video content. It has become the best selling WordPress theme of all time. The newspaper theme is mobile-friendly and responsive. This theme allows you to create video posts and display them on your website's homepage, sidebars, and pages.
It has a dedicated video block, two custom build video playlists, and three video post styles. It is capable of handling a large number of contents. It has also an intelligent ad system designed to make your website Adsense ready in a few seconds.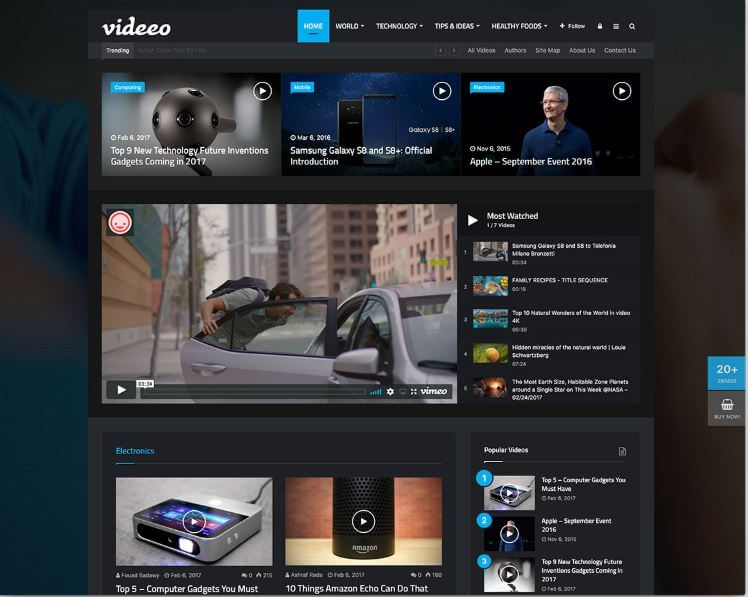 Jannah is made for video-sharing lovers and it is very friendly. With the Jannah theme, the end users are in control of the share function. Users can share the video just by highlighting the video they want to share. This theme is very fast and it helps you to share your videos faster. You will get a mobile-optimized website and it will load faster.
It has 20 fresh demos and you can choose whichever you like. It is one of the best easy-to-use WordPress video themes just because of its cool features. Jannah theme has features like video playlists. Users can build video playlists and with this feature, you can keep your visitors longer.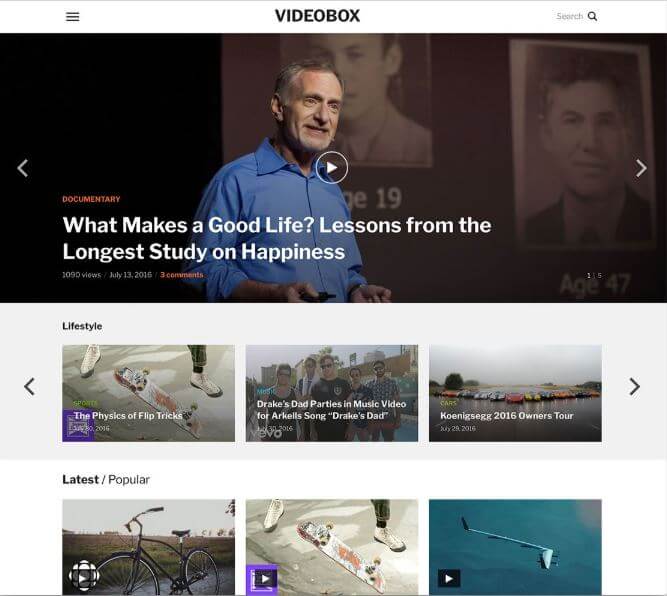 Videobox theme is designed to show video content. This theme is completely responsive and visually aesthetic. Videobox supports well-known platforms and it comes with retina ready image quality. They use WooCommerce for selling and purchasing aspects. It provides automatic video thumbnails, social media connection for Facebook, and Instagram.
It is absolutely perfect for online streaming or online magazines. Bloggers love this theme. It offers multiple headers. Sidebars and widgets area on the homepage. You can customize backgrounds. This theme is suitable for SEO.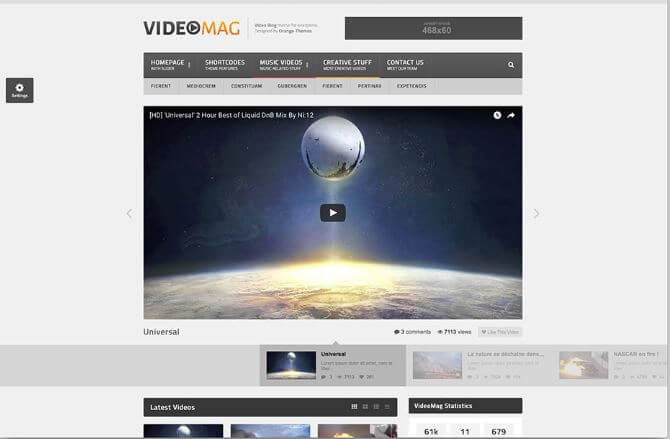 VideoMag is a modern and cutting edge, dynamic and resourceful, deeply functional and interactive, secure and reliable multipurpose WordPress video theme. It is technologically powerful and graphically nimble. You can make gorgeous video magazine websites, video aggregation service websites, and video production industry-related websites.
If you want to make an online-based video service website, then VideoMag is for you. It is compatible with YouTube, Dailymotion, Vimeo, and Vine. You can grab the attention of the user with this theme. It has minimalist and attractive layouts to make your website beautiful.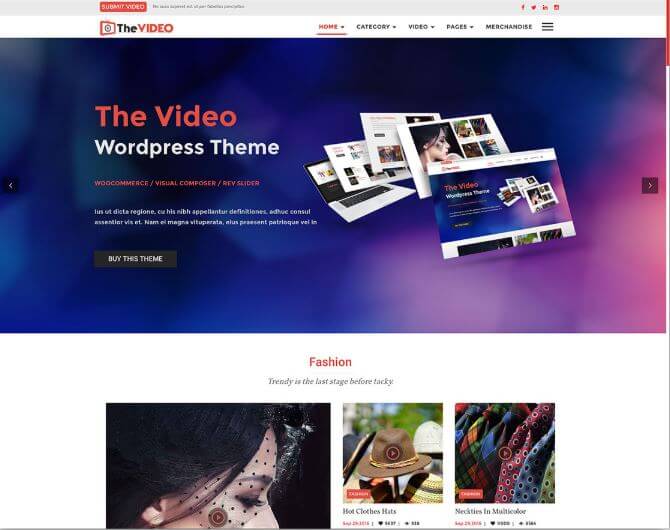 The Passion is a responsive music and videoes multipurpose WordPress theme. You don't need any coding experience to get quality results with this theme. Visual Composer is also there to help you. With the Revolution Slider, you can add smooth slideshows and cool carousels. This theme is perfect for entertainment-related websites and media-savvy websites.
The Passion's got everything like independent filmmakers, music video magazines, etc. Furthermore, this theme has modern features like video parallax sections. You can merchandise with utter ease with WooCommerce.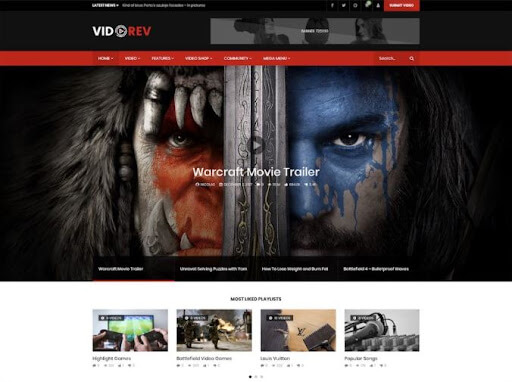 VidoRev theme is one of the best WordPress video themes. If you are just starting out and don't have any knowledge about coding, don't worry. You can create professional video review pages with this theme easily without doing much.
You can build movies, technology, sports, travel, and pretty much any other type of video website with this theme. Grow your loyal community by creating a membership area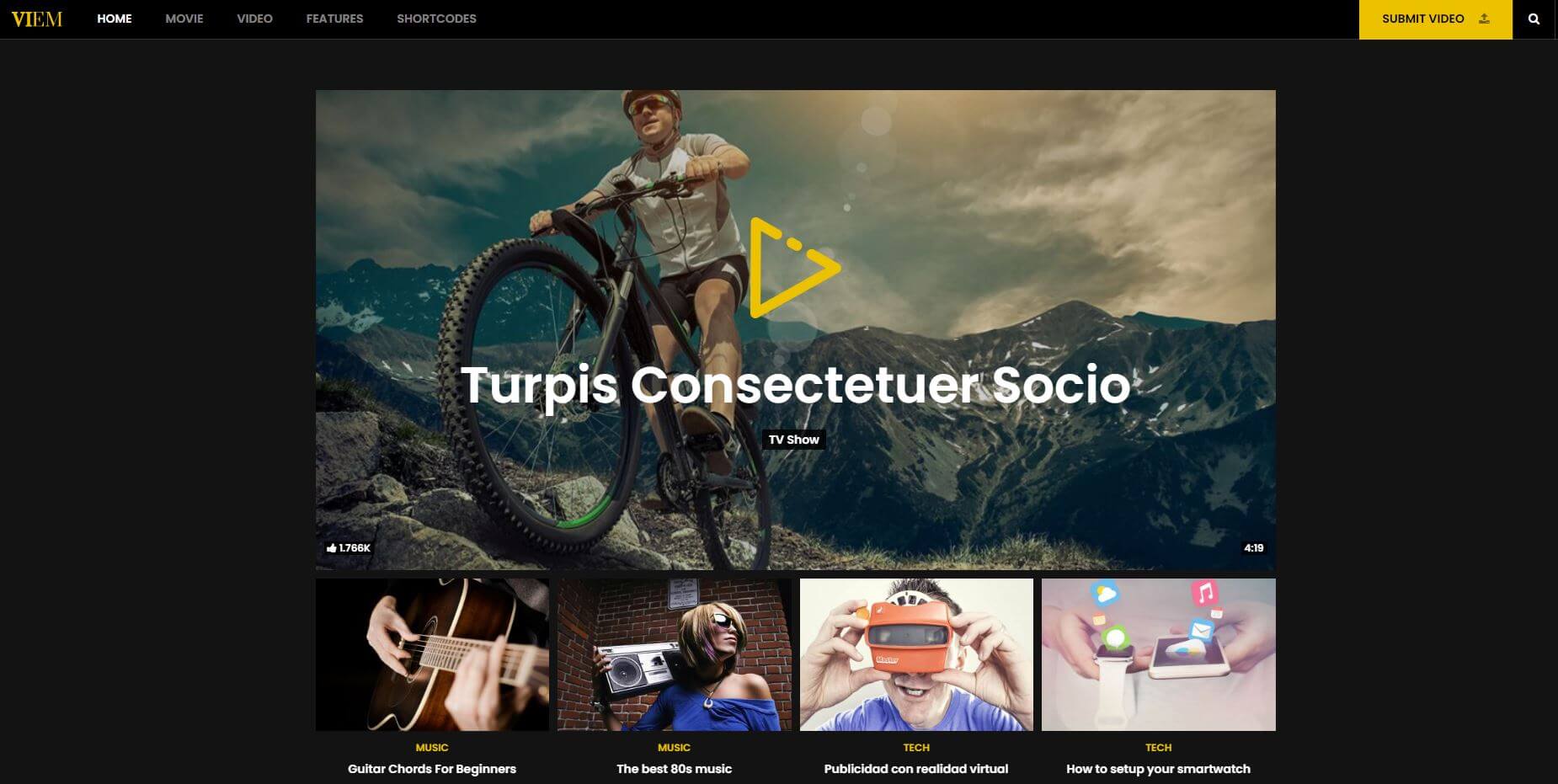 Viem is a popular WordPress video theme. With creative demos, ready-to-use shortcodes, and widgets. You can appear professional from the beginning and start your own online video project. Viem gives all modern tech and design trends to make sure your video page is up to date.
Different video player styles, video channels, playlists, and many more. You can do wonders with Viem theme. You can customize and enhance the experience to fit your visitors precisely.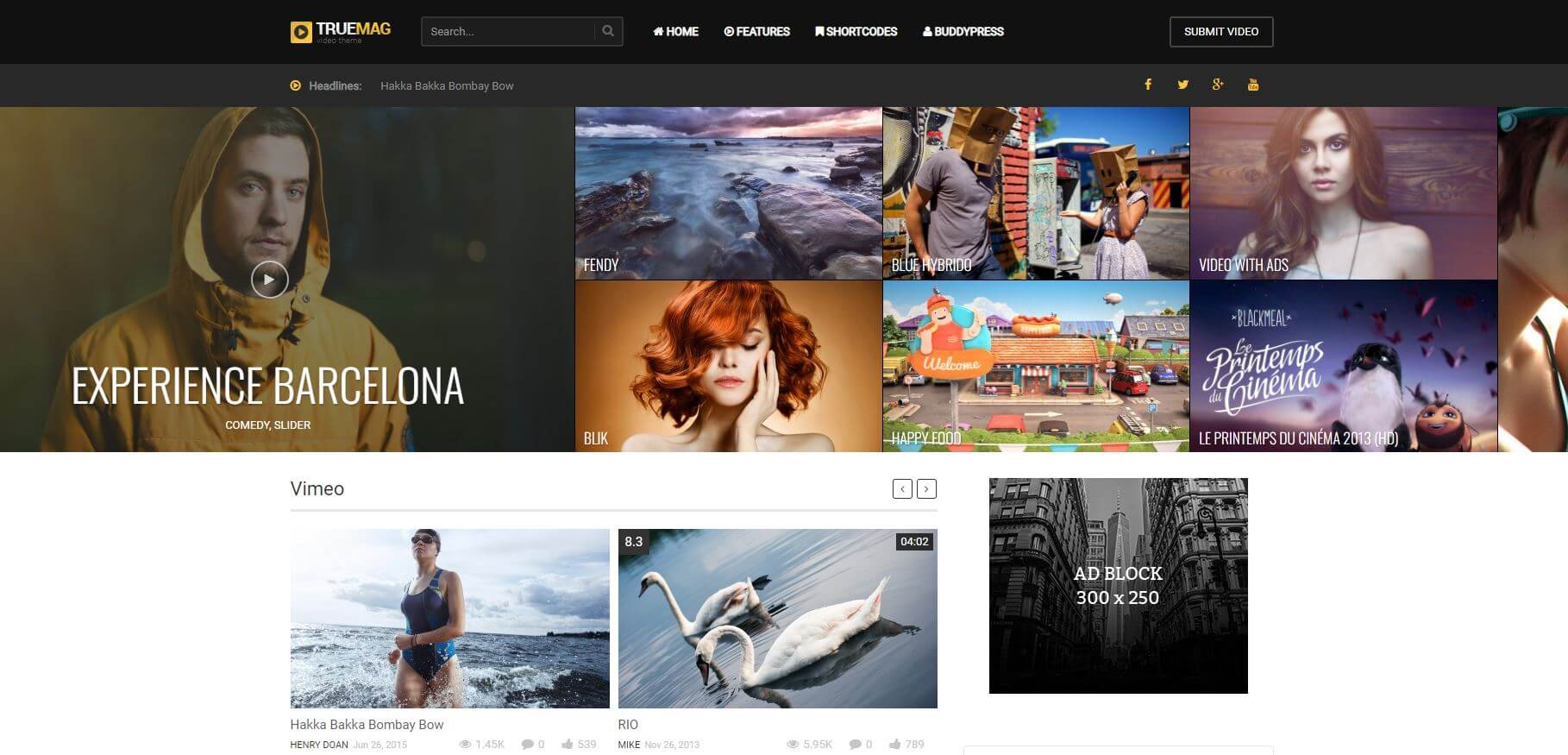 True Mag is best for videos and magazines. It has a super responsive layout and 11+ home pages. You will get picture-perfect quality slides. This theme is specially made for video publicity. It includes a rating system for videos, previews, or quick views. With True Mag, you can make different categories like popular, trending, etc.
Additionally, it uses awesome fonts and colors. True Mag focuses on graphics, and file compatibility and gives the best video quality. It uses a flexible design and has a sign-up system.
WordPress Theme Video for your site
One great way to use WordPress is to create video websites. In this article, we've shared some of the best WordPress video themes that you can use to get started. These themes are all designed for creating video websites, and they come with a variety of features that will help you get your website up and running quickly. If you're looking for a WordPress theme that is specifically designed for videos, these themes are definitely worth checking out.
If you're looking for WordPress hosting that's fast, reliable, and affordable, then you should choose us. We offer WordPress hosting that's perfect for any website, whether it's focused on videos or not. So don't hesitate – to choose us today and start building your perfect WordPress video website!
Read more: Best WordPress Themes for Artists