Finding the best WordPress themes for artists can be a challenge. There are so different WordPress themes available for artists, it can be hard to determine which one is right for you. Some themes are specifically designed for artists, while others are more general-purpose themes that can be used by artists. When choosing a WordPress theme for artists, it is important to consider the type of artwork that will be displayed on the website. Some themes are better suited for displaying digital artwork, while others are better for displaying physical artwork.
Another important consideration is the layout of the theme. Some themes have a very minimalist design, while others have a more cluttered design. The layout of the theme should match the artist's style and preferences. Finally, it is important to consider the price of the theme. Some themes are free, while others cost money. It is important to find a theme that fits the artist's budget. In this post, we will share some of our favorite WordPress themes for artists and outline the features that make them stand out. We hope this information helps you find the perfect theme for your website!
Things to Know to Build A WordPress Site for Artists
We've seen artists limit their online presence to platforms like DeviantArt and Dribbble. These platforms can be great for promoting your art and connecting with other artists. But sadly, they won't help build your identity and branding as a true artist.
Professional artists should always work on their personal branding. It's the best way to showcase professionalism to clients. For starters, you can make your own personal website. But there are some things you should know before planning on building a new website.
First, you need to ensure that you've chosen the best platform to build your art website. And of course, we believe self-hosted WordPress.org will be the perfect website platform for that. It gives you flexibility and access to thousands of different themes and plugins.
The next thing you need is a WordPress hosting account. All sites need hosting as it is known to be their home on the internet. You'll also need a domain name, which is what people will type in their browsers to access your website. It'll be your site's address on the internet (e.g., google.com). If you don't know which hosting company to choose for your WordPress site, consider using Yuan Jhen WordPress Hosting. They're an officially recommended WordPress hosting solution.
After you sign up for hosting, you'll need to install WordPress. Once installed, you need to choose a professional-looking theme for customizing your art website's design. We handpicked this list of the best WordPress themes for artists to help you get started with your artwork. So, without wasting any time, let's dive right in!
15 Best WordPress Themes for Artists
Whether you're a painter, sculptor, or any other type of artist, you need a website to showcase your work. WordPress is a great platform for artists because there are so many themes designed specifically for them.
Let's explore some of the best WordPress themes for artists like you.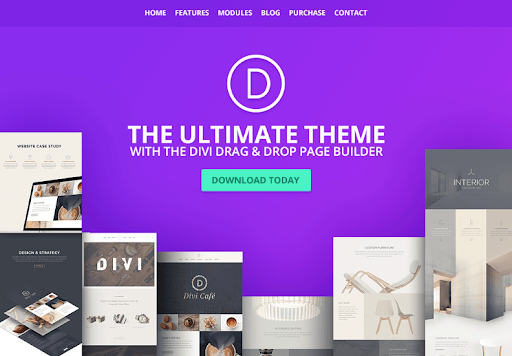 Divi is a multipurpose theme with an excellent reputation. Once you start exploring the monolithic Divi Builder, it will unleash your inner designer right away. It features over 46 content elements for building pages. There are also 20+ pre-built layouts for newbies.
Divi includes many customizable templates for displaying your art. There are grid layouts, a full-width gallery, and a carousel. You can also filter your art. However, the layouts are basic yet catchy. You can tweak them to perfection with Divi's in-built Builder options. It can be the best WordPress theme for artists who seek design flexibility and power. We highly recommend it for creating your WordPress site.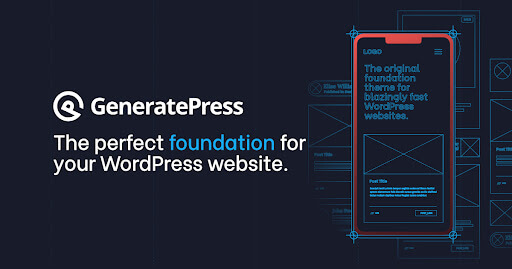 The second theme that we'll take a look at is called GeneratePress. GeneratePress is a lightweight WordPress theme that was created by Tom Usborne. It's ideal for creating simple websites such as portfolios or blogs.
One of the things that makes GeneratePress so popular is its speed and performance. It's one of the lightest WordPress themes available, and it's been designed to be as fast as possible. This makes it an ideal choice for websites with low bandwidth or high traffic loads.
If you're looking for a lightweight WordPress theme that's designed for speed and performance, then GeneratePress is definitely worth considering.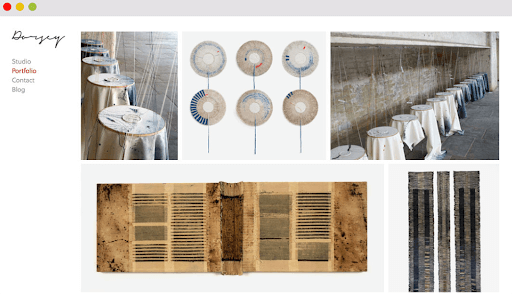 When it comes to enabling your art to make the talking, Dorsey rules above all. It's pretty simple and straightforward. You have a navigation menu to the left and your art to the right. On the homepage, when a user hovers over your artwork, a gallery icon will appear based on the mouse cursor placement. This allows them to navigate through your website images easily. In terms of showcasing art, this should be your number one priority.
Dorsey comes with multiple shop templates, so your website can be more than just a placeholder for your art. If you're about that minimalistic life, you need not look any further than Dorsey.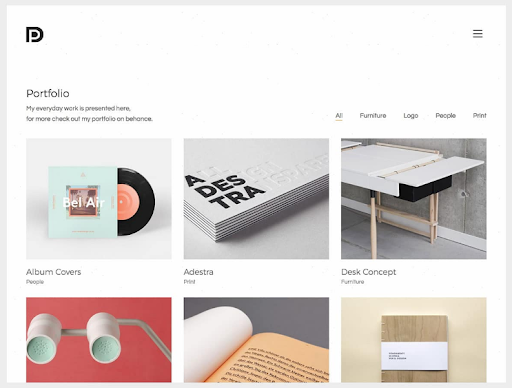 While other WordPress themes for artists offer modern features and functionality, Kalium feels more like it's on the bleeding edge. It's also easily customizable. To get started, you can install any of the 13 pre-built demos.
You can further create your own layout with the Visual Composer plugin that comes with it. In terms of design customization, Kalium lets you choose from more than 1,500 fonts courtesy of FontSquirrel and Google. With the premium version, you can add up to 2,500 Typekit fonts. Other customizations include colors, blog and portfolio pages, headers and footers, storefronts, and much more.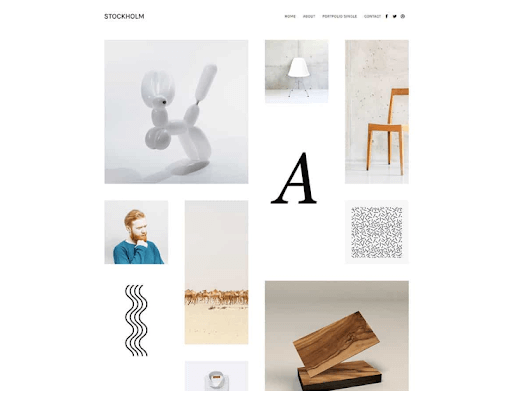 Stockholm focuses on minimalism while showcasing your artwork, so there's no other funny business involved. There's a considerable number of demo templates to choose from, landing pages, encompassing businesses, e-commerce stores, etc.
The portfolio layouts shine above everything, mainly due to the high-contrast color schemes and bold fonts. Stockholm premium bundles the WPBakery Page Builder plugin. It allows you to create a layout based on your requirements.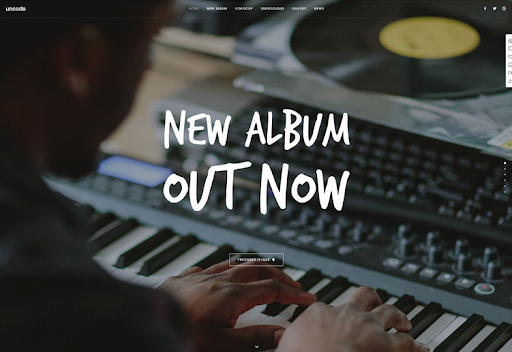 In Uncode, you'll get a theme designed to appeal to any type of artist (e.g., painters, graphic designers, musicians, filmographers, etc.). With stylish visual elements, flexible layout design, and extensive branding options, Unicode can be a great WordPress theme for artists.
Unicode features six menu styles, including an off-canvas function to keep your menu from blocking your art. With the added Revolution Slider and LayerSlider plugins, you can showcase your best work prominently. You can also display images in a customizable lightbox, thanks to its iLightBox plugin. Furthermore, it supports integration with SoundCloud, Spotify, Instagram and comes with 30+ demos to help you get up and running quickly.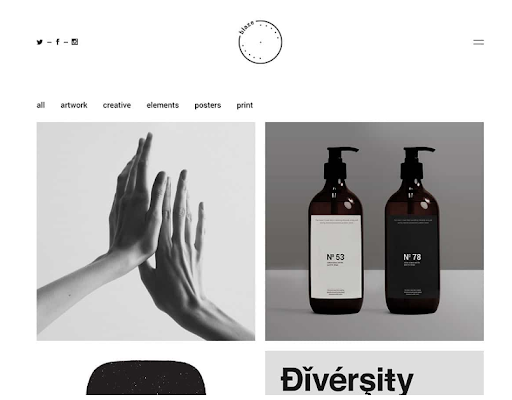 Most themes focus on the same sub-niches. Blaze is the best WordPress theme for artists who specialize in more serious concepts. It has 12 demo layouts. When you open a layout, you'll see the absence of color from the template. This monochrome approach is great for regular work. However, you can change this to your needs through the built-in admin panel, along with a few other elements.
Media looks prominent due to the default color scheme, making Blaze a perfect portfolio theme. Rollovers are quite smooth, and the default headings are bold and clear for the most part. Blaze is clearly a theme for displaying your artwork at the expense of everything else.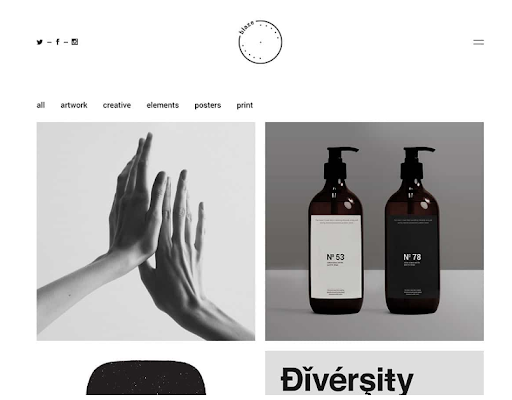 Marble is the perfect example of great simplicity in action. If you have tons of art to share, this could be the right theme for you. You can instantly tell that Marble was specifically designed with mobile displays in mind. The desktop version of the site looks stunning. The design adapts and degrades smoothly to smaller devices.
Beyond that, the developers have made sure nothing gets in the way of your visitors so they can browse through your artwork easily. It comes with multiple layout options for the homepage and blog. You can further make the design work closely to your requirements.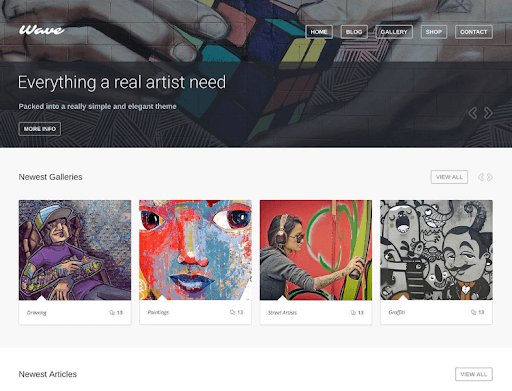 Wave is an excellent alternative to Dorsey if you don't fancy a minimalistic design. It's more colorful and boasts an engaging design of its own accord. Wave features an eye-appealing display for your art without looking overly commercialized. It's responsive and works seamlessly with all device resolutions and screen sizes.
Moreover, Wave offers a massive number of display styles across its gallery and blog templates. You can head from one column all the way up to four with different content placement options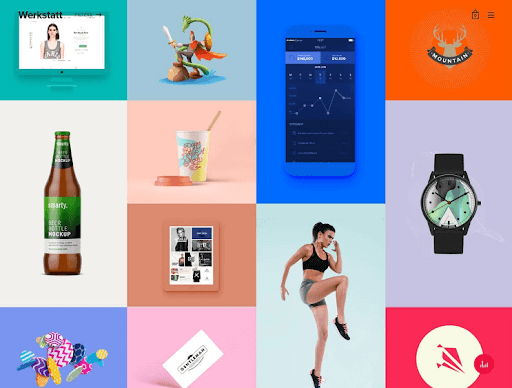 Creative WordPress themes for artists often fall into two camps: Text-based or Visual-heavy. Werkstatt is entirely focused on the visuals to the point where there's little space for additional text. This makes it a great portfolio theme.
The default layout features a full-screen masonry grid for your portfolio elements so that you can display your best work easily. You can also choose from other demo templates. Although some templates look more "traditional," each has a unique design that most themes can't replicate.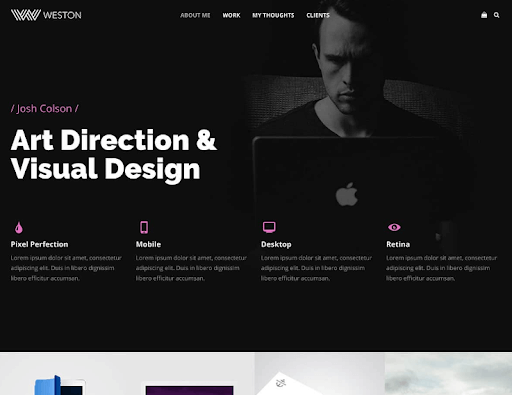 Themes focused on creatives are mostly minimalist. Weston doesn't disappoint here. There are 12 in-built demo layouts labeled "concepts" to choose from. It's understated, which means all the focus is placed on your art as it should be. For further tweaking, you can put the bundled Visual Composer plugin to work and create attractive visuals that go with your work.
In terms of the portfolio, there is a four-column design and a masonry layout. They all look sleek and stylish. The masonry layout features a full-width template, and the single project pages display your work beautifully without overwhelming any textual content.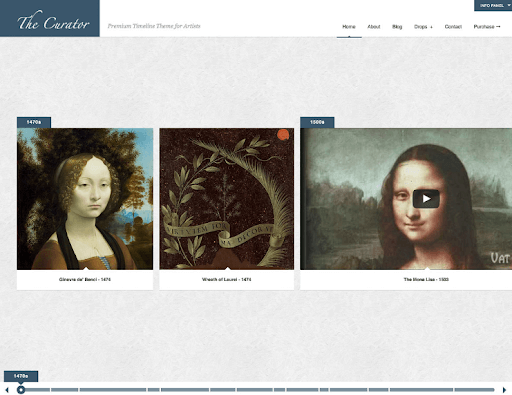 Curator gives you the ability to display your work in chronological order. This will help present your work in an unconventional and appealing manner. Its functionality is obvious to any user. Thumbnail images are placed horizontally. Visitors can scroll through the pictures using the interactive timeline at the bottom.
When you click on a thumbnail, it'll open up a lightbox on the page with a better view of the image. The interface itself works perfectly well on all devices. The key selling point of The Curator is its homepage.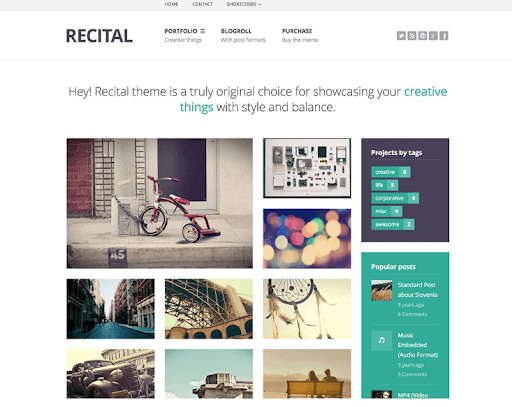 Developing a WordPress theme for artists is about more than just creating an excellent aesthetic. Rectal matches its appearance with many customization options. It's fully responsive, retina-ready, and also translation-ready, which tells you that the developers have paid proper attention to the detail.
Recital offers light and dark skins. You can also create your own custom skin. The admin panel is also complete, where you can brand your site and change fonts, colors, etc. It's set up with all of Google's 600+ fonts out of the box.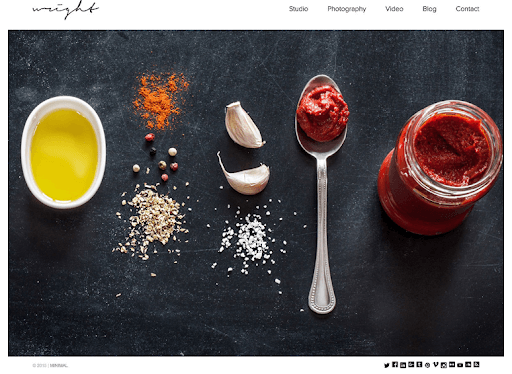 Similar to Dorsey, Wright is another great WordPress theme for artists. It has the same features as most plugins listed here. The theme puts your artwork front and center. This allows a little room at the top and bottom of the page for a logo, social media icons, navigation elements, etc.
Once installed, you can easily customize the setting of this theme. It's responsive and works perfectly on all devices and screen sizes. If you're a minimalistic design fan, then go with the Wright theme. You can, however, check out the alternatives as it is a bit costly.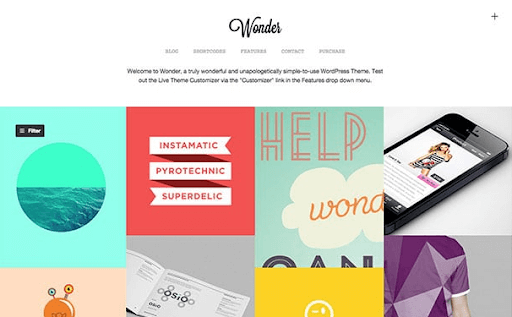 If you're looking for a cheaper option for your WordPress theme, Wonder is your best choice. There are a few things to love about this theme. The first thing that you'll notice is an attractive and engaging homepage. You'll see great CSS3 animations when you hover over the image gallery below the logo, nav, and copy.
Beyond that, you can expect a fair amount of customizations, various page templates, etc. Wonder comes bundled with six free plugins you can use to increase the functionality of your WordPress site.
Final Words
If you are an artist, or you are in the process of creating a website for an artist, then these WordPress themes will help you showcase your work in the best way possible. All of the themes we've featured are modern and stylish, and they will help you create a website that looks great and is easy to use. So what are you waiting for? Start exploring these amazing WordPress themes today!
Wait, here is more. If you need any kind of assistance in choosing the best WordPress hosting solution, look no further. Our dedicated hosting solution with 100% uptime will definitely impress you.