What is WordPress?
WordPress is an open source website system and provides a variety of plug-ins and themes to customize your website without spending too much time, even if you don't have a programming background.
Popular types of WordPress website
According to the analysis of hostingtribunal.com in 2021, more than 1/3 websites are currently using WordPress including e-commerce websites, image websites, personal blogs, teaching platforms, big brands official websites, etc.
But do you know that there are 2 different WordPress platforms: WordPress.org and WordPress.com, and what is the difference between them?
The difference between WordPress.org and WordPress.com
WordPress.org
It is an open-source platform for everyone to use. You can download and install any resources from a third-party such as plugins, themes, Google Ads, GA for your WordPress website. You have full ownership of the WordPress website, flexibly transfer your website content elsewhere anytime. Although it requires spending some money on a domain name and web hosting, WordPress.org is more recommended!
WordPress.com
WordPress.com is a hosting service created by Automatic, it offers a free plan to have WordPress website on WordPress.com but you're limited to what you can do on it. You are not allowed to upload plug-ins, custom themes, e-commerce features, add any powerful tracking platform like Google Analytic (GA), or migrate your website to elsewhere. Your domain name will come with a WordPress.com branded subdomain (e.g. https://yourwebsite.wordpress.com).
To unlock these advanced features, you have to upgrade to premium plans. So working on WordPress.com gets too much restriction to create a WordPress website.
WordPress tutorial – how to install and configure WordPress?
Using Yuan-Jhen WordPress Web Hosting as an example.
Step 1. Purchase WordPress web hosting and domain name
You need to consider the location server, disk space, bandwidth, database, backups, etc. whether the solution fits your needs, and 24-hour technical support is available.
Most hosting providers offer "unlimited", "unmetered" disk space, bandwidth, parked domain, subdomain, and email of their hosting solution with a low price. These unlimited values are actually limited in the terms of service, and the renewable price might be charged more. You need to be concerned about all these things before purchasing.
*Using Yuan-Jhen WordPress hosting in this article as an example for WordPress tutorials. Yuan-Jhen WordPress hosting is especially designed for WordPress that has built-in applications, has many frameworks for you to choose from in just one-click, auto-update, 24-hour expert support, 30-day money-back guarantee, and with WooCommerce plugin, giving you the most complete solution for your website.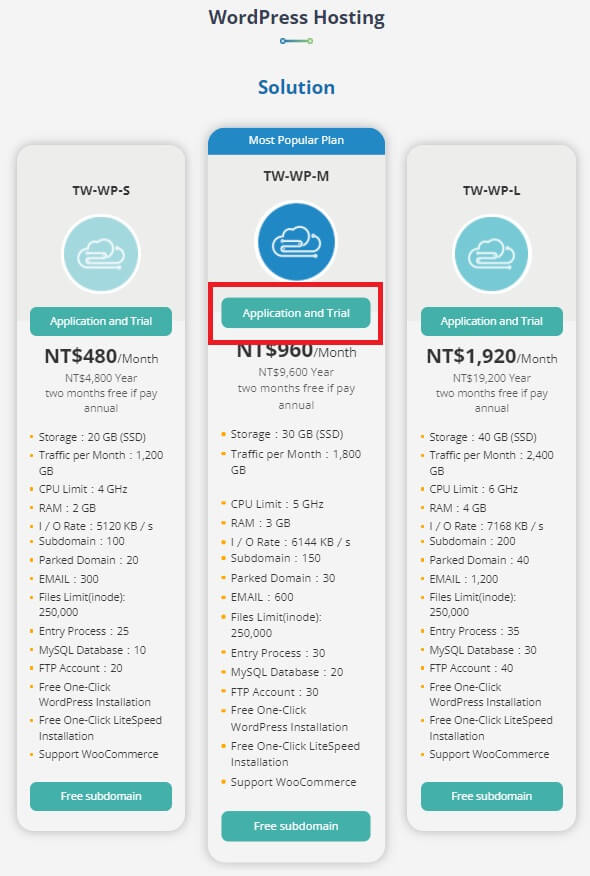 If you haven't purchased the domain name, you can also register a domain name at Yuan-Jhen, which provides complete DNS server hosting, reducing the IT costs for setup and management.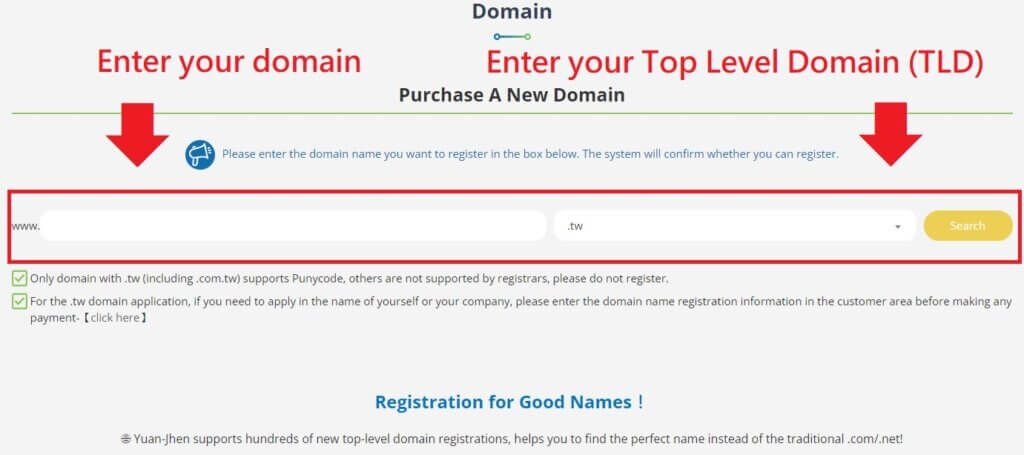 Step 2: Install WordPress guide
After having a WordPress web hosting plan and a domain, please log-in to the "cPanel" and click "Installatron Applications Installer".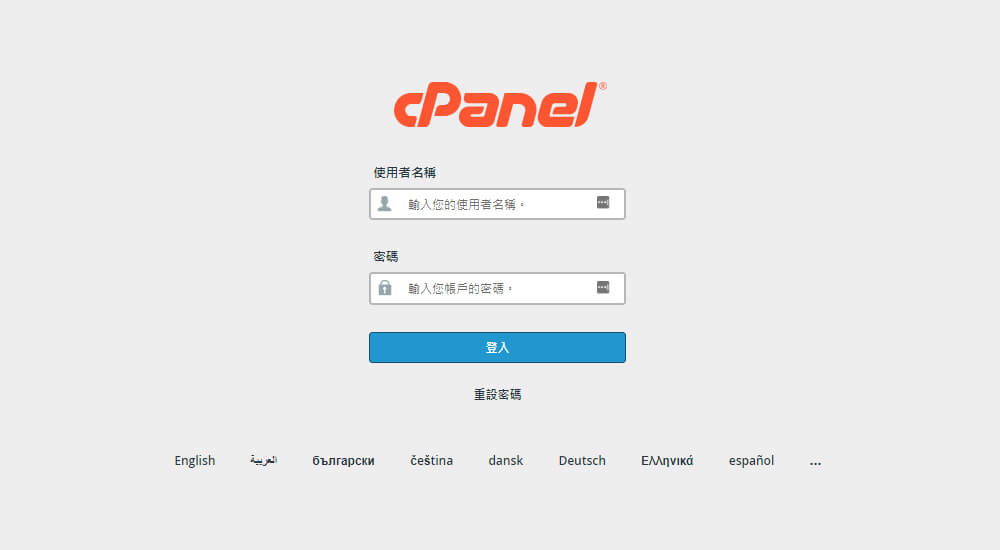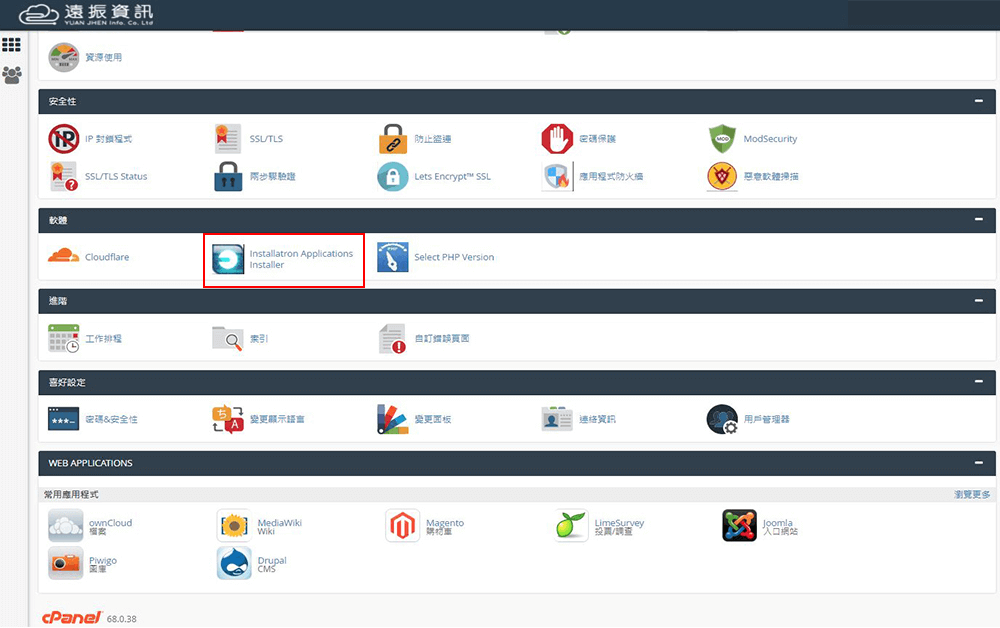 At "Installatron" screen, please search for "WordPress" in the top right corner as photo below: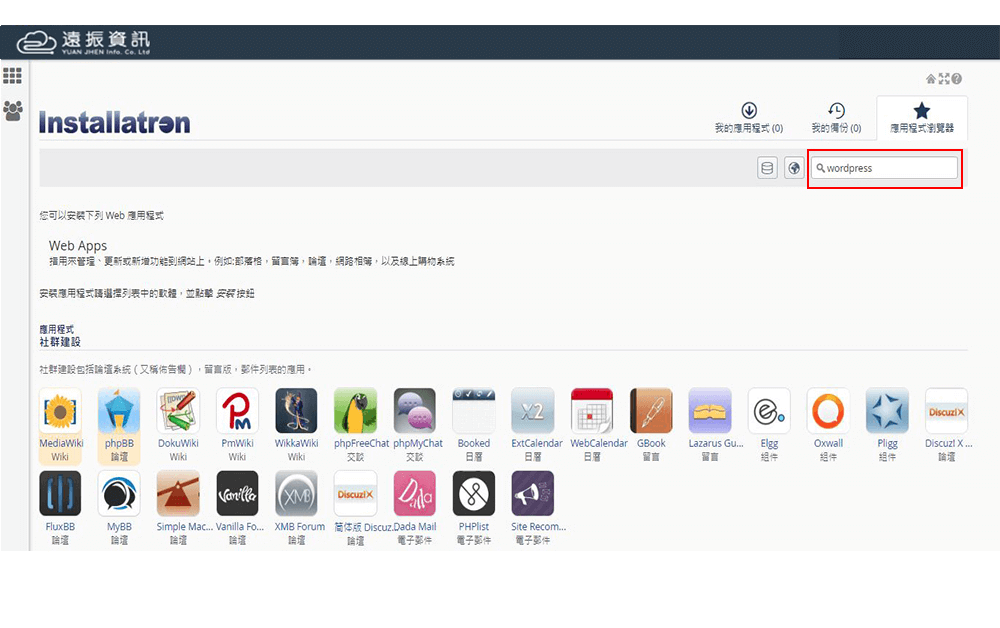 Fill in your the "domain" and "directory":

"Update to new minor version and security releases"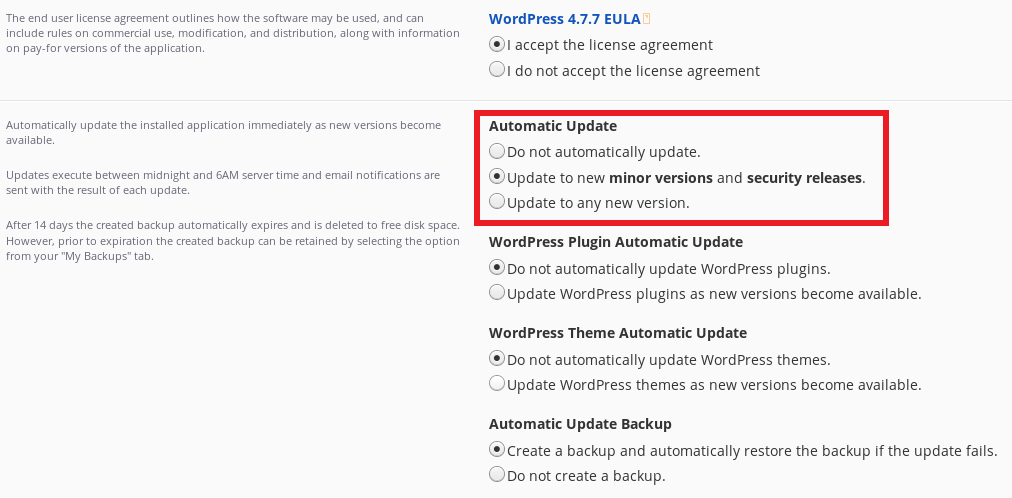 Enter the WordPress back-end administrator account, password, and email address.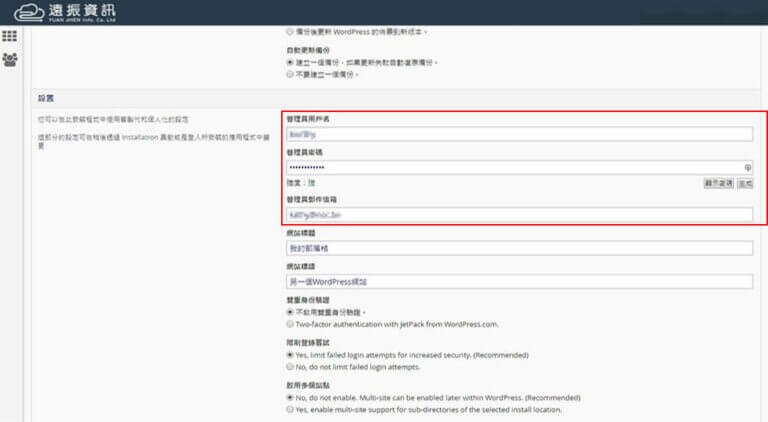 Click "Install", to set "upgrade, edit, backup, copy, uninstall" on the WordPress application by yourself, it is very convenient!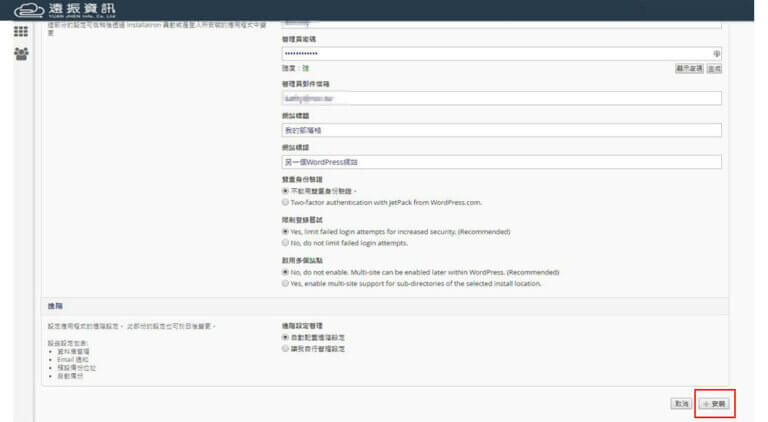 ▶ To learn about WordPress optimized hosting plan ➜ WordPress Hosting Solutions
▶ To learn about How to Choose the WordPress Hosting Solution ➜ WordPress Hosting Recommendation