Are you looking for the best WooCommerce plugins for your WordPress to sell your product or service online domestically or internationally?
Well, WooCommerce itself is a plugin. It is a great plugin for WordPress that helps you set up and manage your own online store. It provides users with all the features they need to create a successful eCommerce website, including order management, payment gateway integration, shipping options, product customization, inventory tracking, and more. 
With WooCommerce, you can even build complex stores with multiple products, categories, and payment options. No matter what kind of online store you're looking to build, there's a WooCommerce plugin out there that can help! Take some time to research each plugin available and determine which one offers the most value for your needs. With the right plugins installed on your WordPress site, you can truly maximize the potential of WooCommerce and your online store!
Why Should We Use WooCommerce Plugin?
WooCommerce is the biggest and most popular e-commerce platform on the internet with over 16 million downloads. As the stats show, the core plugin does get the job done, but it doesn't have all the options. If you want to get the most from WooCommerce, then you'll need to upgrade the core plugin with the help of add-ons and extensions.
There's a lot of money in e-commerce, so most of the plugins come with a price tag. But that's not a big deal as they don't cost a fortune. The majority of the WooCommerce plugins come at decent prices, and there is also a good selection of free WooCommerce plugins out there.
As good as WooCommerce is on its own, there are many additional plugins available to further enhance its capabilities. These plugins come in all shapes and sizes- from ones designed to improve checkout processes to those tailored specifically for creating discount codes or offering multi-currency payments. Unless you have chosen the best web hosting for the WooCommerce store, it will be difficult to manage your website.
The importance of choosing the right WordPress Hosting plan
If you're looking to start a WooCommerce store, it's important to choose the right hosting provider. WordPress hosting is specifically designed to support WooCommerce and make it run smoothly. Some providers offer built-in WooCommerce support, while others require you to install a plugin. Make sure to choose a provider that offers good customer support, as you may need help setting up your store.
If you want all-in-one hosting for your WooCommerce store, consider using Yuan Jhen WordPress Hosting. With the built-in LiteSpeed, support WooCommerce, and 99.9% uptime, you'll gonna love using it for your store.
8 Best WooCommerce Plugins for WordPress
With so many different options available it can be hard to know which plugins are the best for your store. We've included 11 of the best WooCommerce plugins, add-ons, and extensions to help you enhance your e-commerce store. If you want to further boost your web traffic, revenue, and appeal without costing too much, the following WooCommerce plugins for WordPress should be more than enough for you. Let's check them out!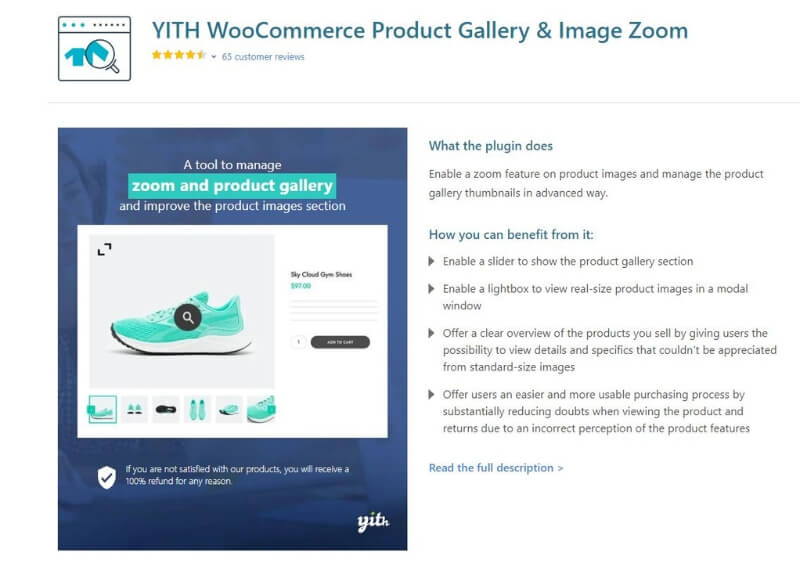 When customers visit your website and check out your products, they first see what your products look like. They want to ensure that your product's quality is good and certainly better than its competitors. You obviously don't expect your customers to get all these ideas from just looking at a tiny, hardly discernible photo.
This is where we recommend you get the YITH WooCommerce Zoom Magnifier Plugin for your WordPress site so that you can display your images vividly. When visitors hover their mouse cursor over any of your product images, they will instantly see an enlarged product popup. You can configure the dimensions of this particular popup function and the zoom levels for better viewing.

WooCommerce had support for only one payment gateway in the past, PayPal Standard. This gateway could have been more friendly to business owners as it would divert the customers to an external PayPal website. As a result, many e-commerce stores started installing payment gateways like Stripe and PayPal Pro that facilitate card payments onsite.
If you're going to Stripe, then the Stripe Payment Gateway is one of the best WooCommerce plugins available for free. The installation process is easy. You can easily install the Stripe gateway during the installation wizard with one click. Once installed, you can sync your store with the Stripe API and start accepting Visa, MasterCard, and many other cards.
Why Should You Use WooCommerce Stripe?
There are many reasons you should use the WooCommerce Stripe payment gateway. It is one of the best WooCommerce plugins for WordPress. The most important reason is that it is extremely secure. Stripe is one of the most trusted payment gateways in the world, and it is used by some of the biggest companies in the world.
Another reason to use WooCommerce Stripe is that it is easy to use. You can start taking payments immediately after setting up your Stripe account. Some other features make Stripe an excellent choice for online payments, including:
Automatic PCI compliance

Fraud protection

Easy integration with WooCommerce

Recurring payments

Subscriptions

Multi-currency support
The WooCommerce Stripe payment gateway is also very cost-effective. It does not require a merchant account, so you don't need to worry about the associated fees. And, because it is widely supported, you can accept payments from customers worldwide.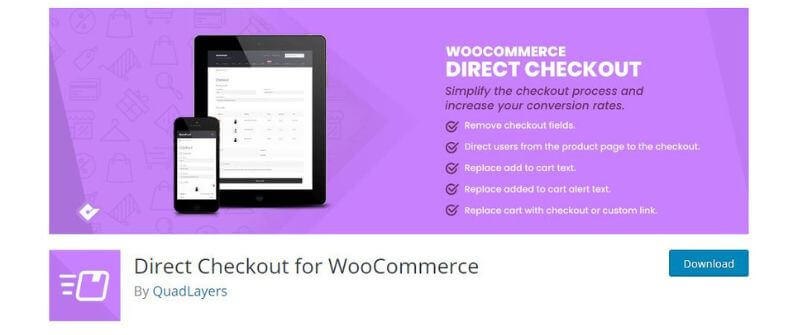 Another great WooCommerce plugin for your store is WooCommerce Direct Checkout. If your visitors get stuck between too many hoops or have to click through multiple pages to get what they're looking for, some of them might leave your website and never visit again. 
We aren't suggesting that the default checkout process could be better. But you must streamline the WooCommerce checkout process to get the most out of it. This is where WooCommerce Direct Checkout comes in handy. Your users can skip the shopping cart completely. This reduces the number of hoops and boosts your conversions significantly. If you still want something better than this checkout process, you can add a "Checkout" button directly to the shop page. It allows your visitors to skip the product page screen. WooCommerce Direct Checkout takes only two minutes to install and configure. Give this one a try!

Acquiring a new customer will cost you more than retaining an existing one. The easiest way you can create a database of your customers is by collecting their email addresses in a listing format. And what better way to do this than using the WooCommerce MailChimp plugin? 
It's one of the best WooCommerce plugins for WordPress that gets the job done if you're using MailChimp for email marketing. MailChimp subscribes your customers automatically to a mailing list. You can also insert a checkbox on the checkout screen to give them the option to subscribe manually by ticking on the checkbox. 
Your existing customers will help you earn more in your business. So it's essential for you to treat them well so they remain your customers for many years. MailChimp helps you better understand your customers to deliver the best service.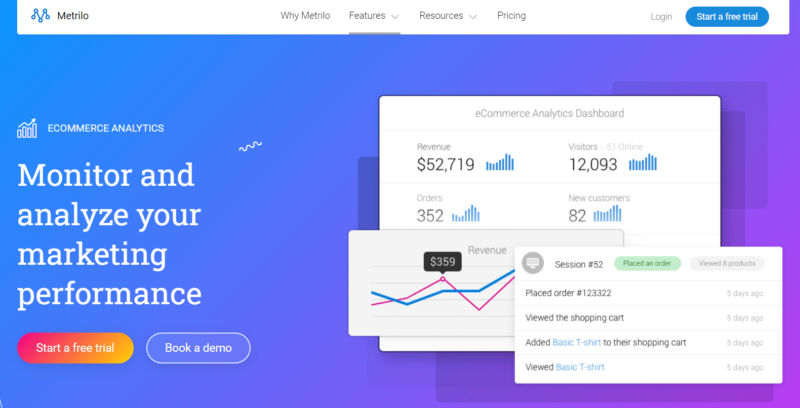 Metrilo is one of the best WooCommerce plugins that enable you to monitor your WooCommerce store's performance and optimize marketing spend. You can track all your important e-commerce KPIs and visitors' actions on your website. It lets you easily compare the ROI of marketing channels and displays traffic, sales, product, campaign, etc., in a user-friendly way.
Metrilo allows you to win your customers' loyalty with its retention analysis. It's tough to find an email tool that works perfectly with WooCommerce. Installing Metrilo will help you connect to email and CRM so that you can immediately begin highly personalized emails. Metrilo has a 14-day trial so you can give this one a shot.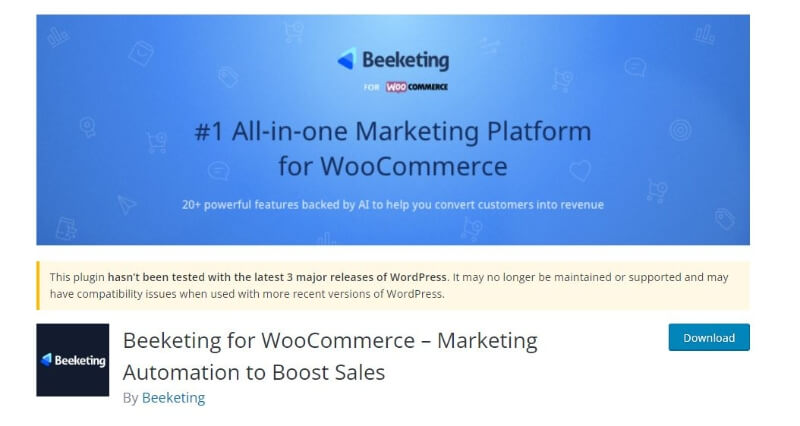 Beeketing for WooCommerce brings a number of sales and marketing solutions into one complete package. It's a great marketing automation suite for WooCommerce stores and businesses. Beeketing for WooCommerce comes with a bunch of different apps. Each app has its unique set of features that focus on boosting your conversion rates at many different stages in the sales funnel. It has various marketing tools available to help you get more traffic, increase conversions and boost sales.
Some of the key features of this plugin are email coupon popups, exit-intent popups, upsell & cross-sell, quick view popups, social proof widgets, automated email marketing, Facebook live chat widgets, and many more. Beeketing is an excellent Marketing Automation platform for e-commerce sites. The marketing automation tool is designed to identify customer behavior and trigger personalized campaigns based on their preferences. It can result in higher engagement with your customers and improve overall sales. 
With Beeketing for WooCommerce, you can quickly create gorgeous product page displays, build collections of products that match customers' interests, and more. All of these features are designed to create a better shopping experience which can result in increased sales. 
Try the Beeketing plugin today and start taking your online store to the next level!

Out of all the WooCommerce plugins we've mentioned, Woo Product Slider is the best when it comes to WooCommerce sliders. It adds a fully responsive slider to the product pages of your WooCommerce store and displays it in a user-friendly way.
Woo product slider is a completely responsive and mobile-friendly carousel that allows you to easily create multiple product sliders and add them to your e-commerce store. You can customize it according to your needs. You can add custom titles, descriptions, images, and videos to each product in the slider. You can also choose what categories of products you want to show in the slider.
The WooCommerce Product Slider plugin also allows you to display your products in several different ways. You can choose to display them as a grid, list, thumbnail, or slider. This flexibility makes it easy for customers to find the products they want quickly and easily.
Overall, the Product Slider for WooCommerce is a great way to showcase your products and entice customers to make more purchases. With the ability to customize it according to your needs, you can create an eye-catching slider that will draw in customers and increase sales. Give the Product Slider for WooCommerce plugin a try, and start selling more of your products today!

Your website has to be capable of currency conversion if you're targeting international customers. It's easier for customers to understand the pricing in their local currency before deciding to buy the product. This is where the WooCommerce Currency Switcher (WOOCS) comes in handy. The free version of this plugin allows two currencies at a time.
It supports the flags of your chosen countries. You can later upload them manually to your media library, and WOOCS pulls the exchange rates directly from Yahoo Finance in real-time. It offers three widgets: a site-wide currency switcher, a conversion rate calculator, and a display latest exchange rates. The plugin uses Geolocation to detect and show the local currency based on your visitor's IP address.
Read more: WordPress eCommerce Plugins
Bottom Line
If you're looking to start selling online, WooCommerce is a great option. It's easy to use, powerful and has a large community of users and developers. And if you need any help, there are plenty of resources available online. So far, we have reviewed some of the best WooCommerce plugins that will surely make your e-commerce store more fancy and reliable to customers. 
Our honorable mentions are the WooCommerce PDF Invoice plugin, the WooCommerce Subscriptions plugin, and the WooCommerce Bookings plugin. You can also use these plugins to improve the functionality of your WooCommerce site and make it easier to use.
Finally, choosing the right WordPress hosting is important for the success of your WooCommerce store. As we have been providing top-notch hosting services for a long time with a great reputation, you can rely on us as long as you have some products to sell online.
Read more: Best SEO WordPress Themes