What is digital transformation?
Digital transformation is the enterprises transforming operational business processes and other corporate departments through new technologies, integrating digital into all areas of business, modifying existing business models and delivering values to customers to meet changing business and market requirements.
Cloud technology allows businesses to do more, streamline processes, and save money. The cloud makes digital transformation more potent today and more disruption-proof tomorrow.
Digital Transformation Process
▾ Digitization:
Convert paper content or image files to electronic storage so machines can read them.
▾ Network, cloud and mobile:
Can access large amounts of data through devices such as the cloud. Data can be shared with other users to optimize corporate work efficiency.
▾ Intellectual:
Enterprises can use these data and data to innovate and optimize functions, such as cost optimization, image recognition, etc., using machine learning or artificial intelligence.
Why is digital transformation needed?
The digital operation will become a key to business growth and innovation.The COVID-19 epidemic broke out and has changed business operations and consumer habits. It increased the number of companies suspending business, and the most crucial to transformation digital is survival. Spending on the digital transformation of business practices, products, and organizations has never been more critical for its survival.
It has also accelerated enterprises' digital transformation and prompted them to seek complete cloud solutions actively. Most companies in Taiwan regard digital transformation as a critical project for company development, and more than three-quarters have devoted more resources to promoting digital transformation plans after the epidemic.
Cloud management has become a significant driver of enterprise digital transformation
Building a data center and replacing old hardware and equipment should not be the focus of digital transformation. Only cloud management can help enterprises' digital transformation. Use cloud collaboration platforms to improve enterprise departments' work efficiency and productivity. Deploy virtualized cloud computer rooms and infrastructure to help enterprises reduce costs and digitize and cloud their development projects.
After the infrastructure is ready and a huge amount of data is accumulated, you can expect to obtain business value analysis from the data through the cloud management platform and analysis tools. With the application of digital technology, companies can optimize operational processes, maintain business agility, save costs, and quickly adapt to the market, enabling companies to grow steadily and move towards sustainable operations.
Know More About Cloud Management
What is AWS Managed Services (AMS)? AWS Managed Service helps enterprises go to the cloud
AWS (Amazon Web Services) is a global cloud computing leader, providing comprehensive global cloud services, including cloud computing, storage, database, analytics, networking, mobility, developer tools, management tools, IoT, security and enterprise applications AWS is a widely adopted cloud platform in the world. It connects data centres widely deployed around the globe with low-latency, high-throughput, and high-redundancy fiber-optic networks, providing the most extensive, reliable and secure cloud infrastructure and application services.
AWS Managed Services are available in almost every industry and enterprise. For startups, large enterprises, and even government agencies that are all customers of AWS cloud management services, AWS cloud hosting is recommended to promote enterprises' digital transformation.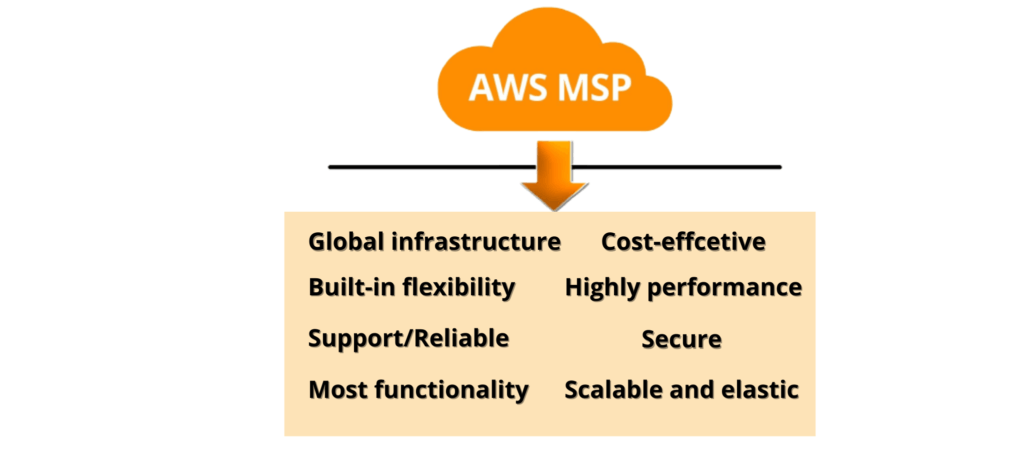 What services does Yuan Jhen AWS Managed Services provide?
Yuan Jhen is an AWS (Amazon Web Services) Managed Service Provider (MSP), providing enterprises with localized, high-availability, scalability and high-performance solutions leading the digital transformation of enterprises.
▾ Architecture planning and design:
Cloud evaluation, service introduction, architecture proposal.
▾ Technical consulting services:
Technical consultation, handling accounting issues, maintenance and emergencies.
▾ Architecture Proof of Concept:
Cloud requirements testing, cloud deployment verification.
▾ Cloud relocation:
Virtual host relocation, database and data relocation, workload transfer.
▾ AlOps automated maintenance:
Cloud accounting management, cloud environment monitoring, infrastructure management.
Know More About AWS MSP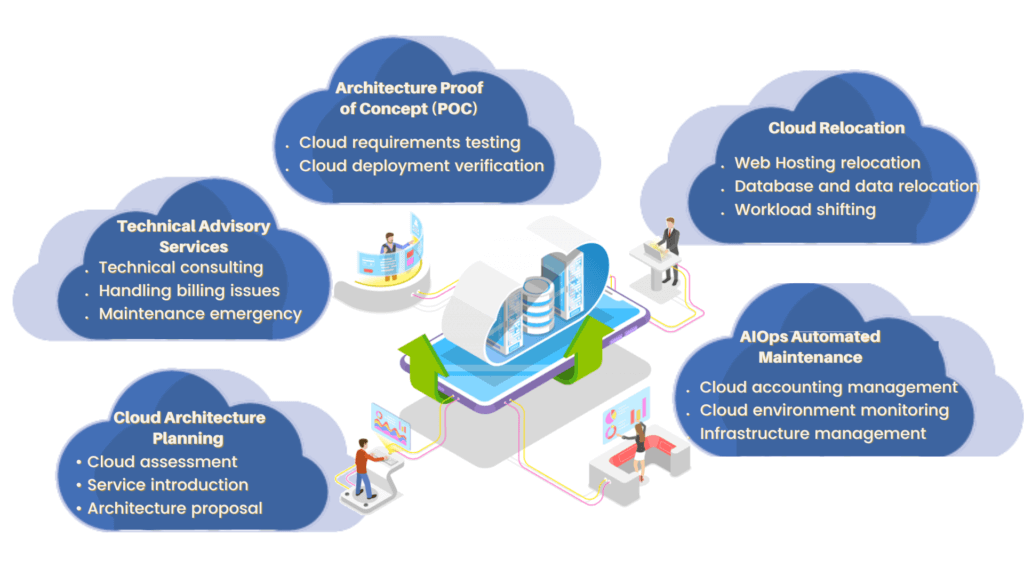 How does Yuan Jhen AWS cloud hosting service help enterprises' digital transformation?
1. Save cost and time
There are many items that enterprises need to maintain for the computer rooms, such as operating systems, applications, infrastructure, etc., and require IT staff to maintain them. It's a large sum of money to invest. With Yuan Jhen AWS Managed Services (AWS MSP) has a professional engineering team to maintain and monitor, optimize the system, and synchronize the latest AWS technology and information security, so that the enterprise does not need to bear additional cloud management costs and pressure, which can greatly save cost and time to build, maintain, and cost to hire IT staffs.
2. Improve enterprise flexibility
Enterprises can access the cloud platform anytime and place, such as data updates, virtual machine expansion, etc., which helps enterprises to better adapt to market changes, and more importantly, the flexible billing method for cloud management to pay as much as needed. Reducing waste resources and saving costs.
3. Facilitate data integration
If an enterprise needs to integrate data, it can also operate the data at any time and place through the cloud platform to ensure the consistency of enterprise data.
4. International professional certification
Yuan Jhen Information has been awarded the ISO 27001 certification for Information Security Management System, and the colocation information is guaranteed! Yuan Jhen's engineering team has a Red Hat certification and an SAA certificate. It has professional technology and experience to provide enterprises with more reliable cloud management services.
5. Data backup and disaster recovery
Yuan Jhen AWS MSP provides flexible backup, which can be set to automatically backup daily, weekly and monthly. Instant snapshot function with Snapshot and professional engineers to confirm the hosting resources and backup status, regular automatic backup and standby data backup, reduce website risk of data loss.
6. Premium Additional Services
Regularly provide vulnerability scanning and information security reports, assist in host restart, system adjustment, database analysis, professional engineering team active management services, and provide localized and cost-effective cloud management server.
Know More About AWS Managed Services