Google has been changing the SEO ranking rules focusing on the website loading speed and user experience, under those rules, website admin has to pay more attention to the website speed and website content. We have done a test on WP Rocket, which is a plugin that accelerates WordPress website loading speed, let's take a look at the result!
What is WP Rocket ?
WP Rocket is a paid plugin of WordPress to help fasten your WordPress website and bring a better user experience to your viewers. WP Rocket's official website emphasizes that it only takes 3 minutes to set up. Let's test it out whether it is really as simple and fast as the official website says.
Does WP Rocket have a free edition?
WP Rocket does not provide a free edition, there are three types of plans that you can choose according to your needs: Single, Plus, and Infinite. Single can be used in only one domain, Plus can be used in three domains, and infinite can be used in unlimited domains.
Sometimes you can see web hosting providers with WP Rocket included in their hosting plan, however, it is unauthorized. WP Rocket indicated that they have no cooperative relationship with any web hosting providers. Therefore, if a host indicates that the WP Rocket plugin is included, you must pay extra attention. It is recommended to purchase the plugin on the official website if you need it.
Requirements of WP Rocket
The newest WP Rocket 3.9 requires PHP 7 and WordPress 5.3, remember to check if your version meets the requirement, check with your provider if you are using web hosting or WordPress hosting. The WordPress hosting plan from Yuan-Jhen can update anytime and using PHP 8, there will be no compatibility problem.
How to set up the WP Rocket plugin on the WordPress hosting?
Purchase and installation of WP Rocket plugin to your WordPress.
1. Purchase the WP Rocket plugin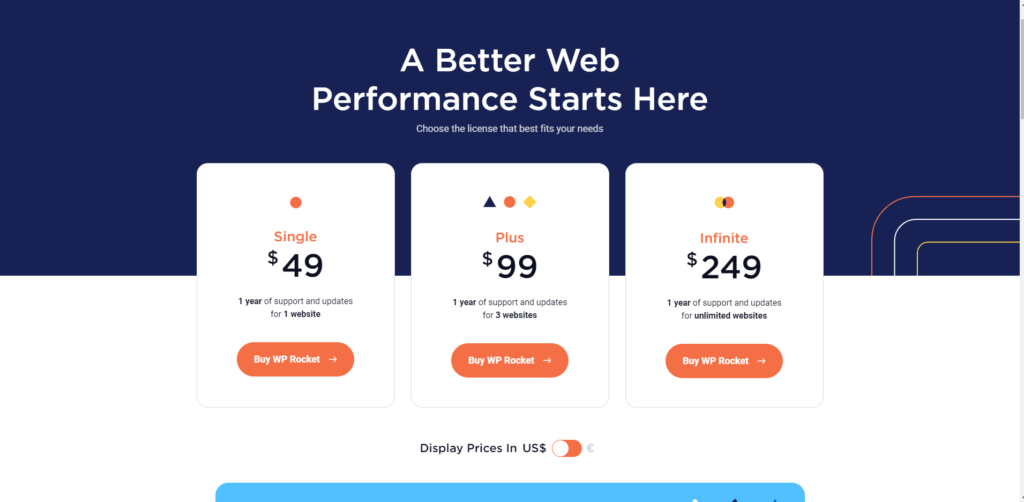 2. After completing the payment, a link will be sent to you to download the plugin, or you can log into WP Rocket to download the plugin.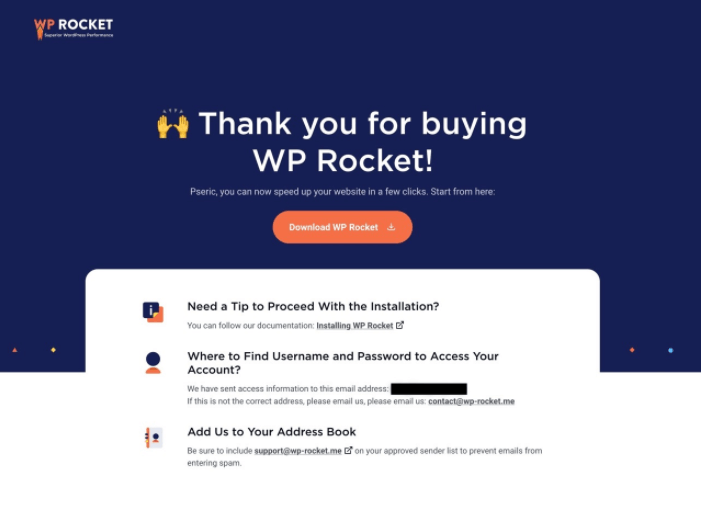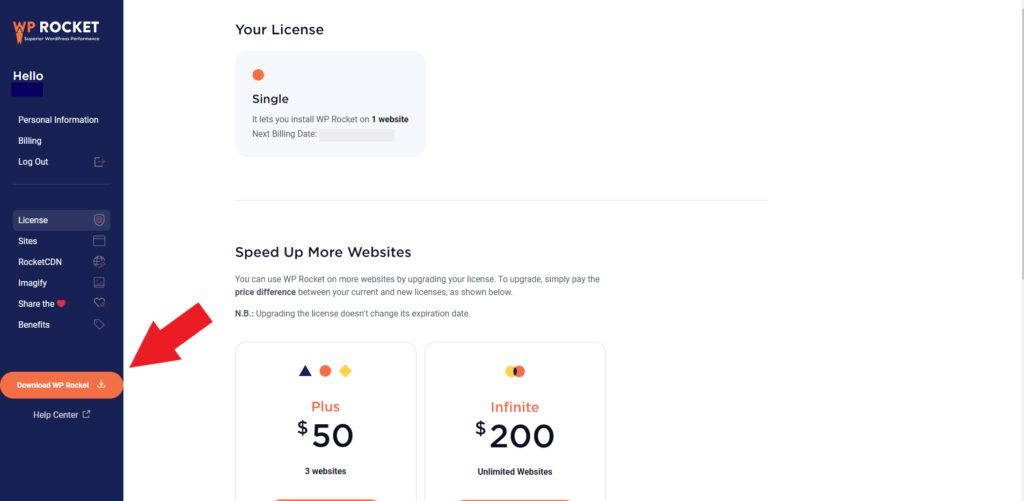 3. Install WP Rocket into your WordPress, click the "Plug-in" → "Add Plugins" → "Upload Plugin".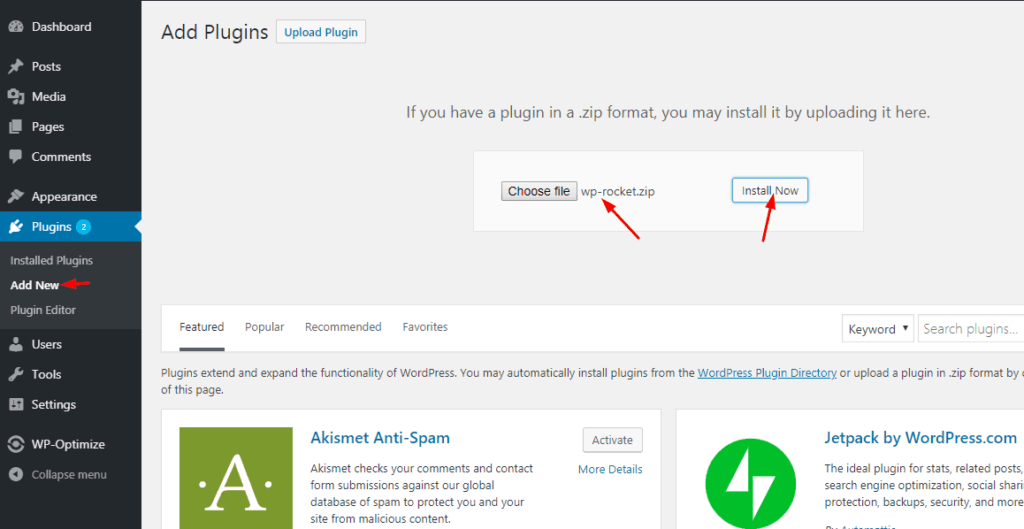 4. Activate your WP Rocket by clicking "Activate Plugin" in the plugin installed.
It's done! And the next thing you need to do is to get the relative settings seated. The settings will be made according to your goals and needs, no matter which plugin you use, you have to set it up according to your website status and needs. The following setting is seated according to the situation of Yuan-Jhen's blog.
WP Rocket plugin settings
1. Cache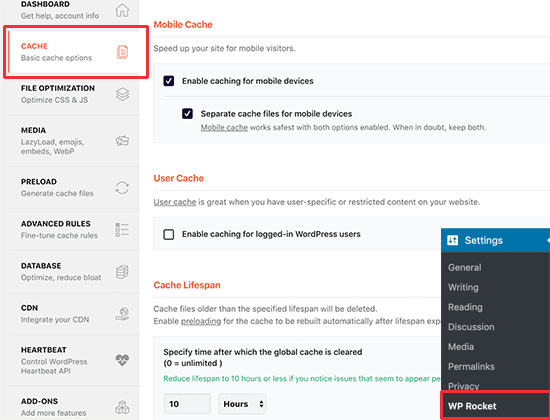 Mobile device cache


This is an option that is recommended to be selected. Nowadays, the traffic on the internet is mostly from mobile devices (e.g. mobile phones, tablets, etc.).Visitors will be reading the contents of the WordPress database directly if this option is not selected. Although the latest information can be read, the page loading speed will slow down.

User cache


"Create a cache for logged-in users". Select this option only if you are operating an e-commerce website and will have a large number of users to log in to the website or when there are many website administrators.

Cache life cycle


Use WP Rocket's default value of 10 hours. This can be regarded as the time to automatically clear the cache data. WP Rocket also has a manual clear function, which can clear the cache at any time.
2. File optimization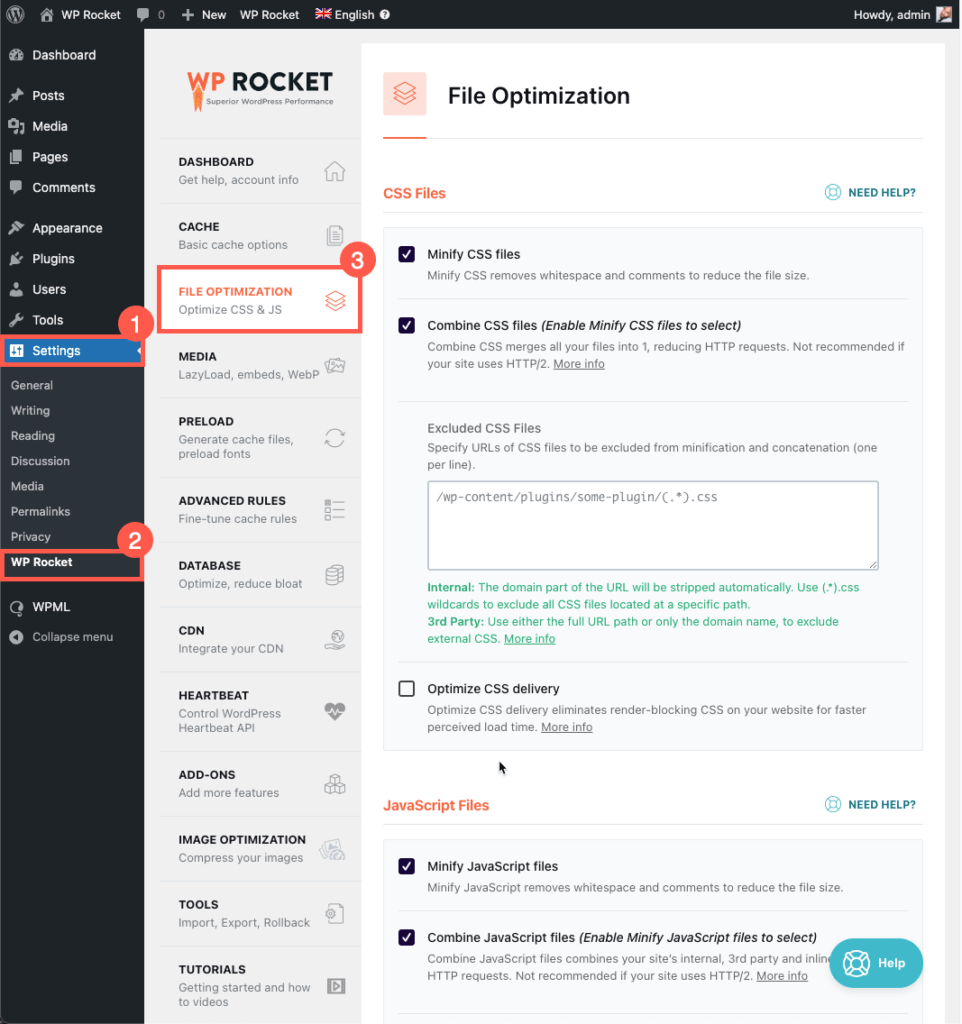 Minify CSS files


Remove unnecessary parts of the CSS file, make the CSS file smaller, and improve the web page loading speed.

Minify JavaScript


The principle is the same as compressing CSS, removing unnecessary parts from JavaScript files, making JavaScript files smaller, and improving web page loading speed.

Load JavaScript Asynchronous


Asynchronous means that the website can execute more than two projects at the same time, avoiding that the website only executes a certain project and drags down the overall website loading speed.

Delay JavaScript execution


It will allow some JavaScript to be executed after the user has executed some responses, and delay the loading of some non-essential JavaScript elements, which can make the website load faster.
3. Media
Enable for LazyLoad images


Enable for iframes and videos (and replace Youtube iframe with preview image), the above option is to delay the loading of the image or video on the page until the website visitor scrolls to the position where the image or video needs to be displayed, which can improve the loading speed of the page, which is important for SEO and users experience.

Image Dimensions


Add missing image dimensions. Select this option and the size of the image will be automatically defined to prevent the page displacement from affecting the website visitor's loading speed and the CLS score.

WebP compatibility


If there is a special conversion for website pictures into WebP format files with smaller capacity and faster loading, or some WordPress plugins automatically convert website pictures into WebP format, you can enable this option, WP Rocket will also create a cache for WebP files.
4. Preload
Preload Cache


After Activate Preloading is enabled.

Preload Links


It will start to preload the page that the link leads to when website visitors move their mouse to any "internal link" on the website.
Pagespeed testing of the WP Rocket
There are a lot of page speed testing tools on the internet for you to test out your website, and now, we would like to present you the test result of the PageSpeed Insights after activating the WP Rocket plugin(Test on Yuan-Jhen blog).
▼ This is the result before activating WP Rocket (Desktop).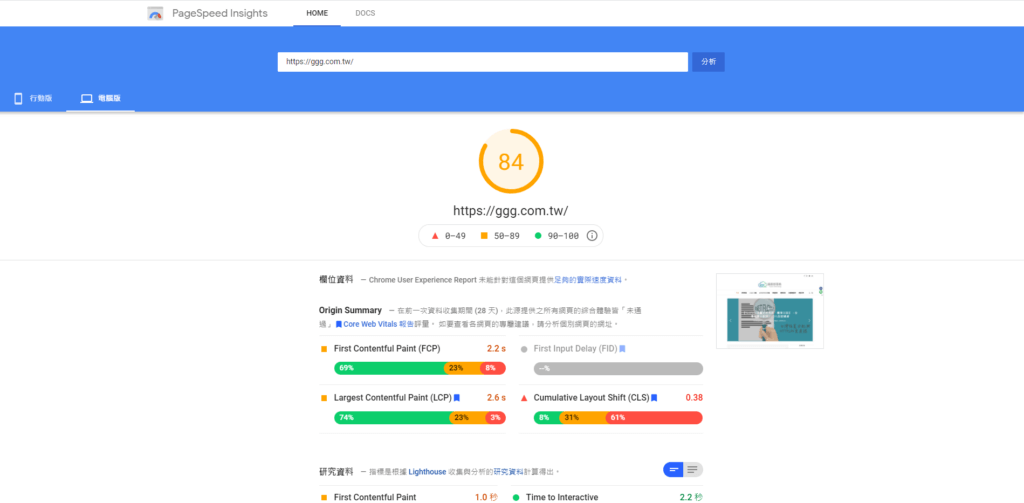 ▼ This is the result after activating WP Rocket (Desktop).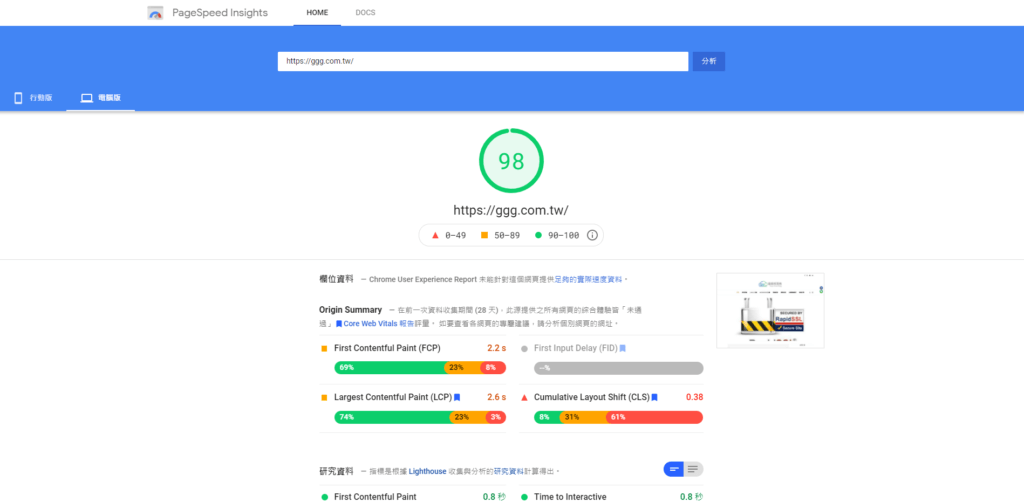 ▼ This is the result before activating WP Rocket (Mobile).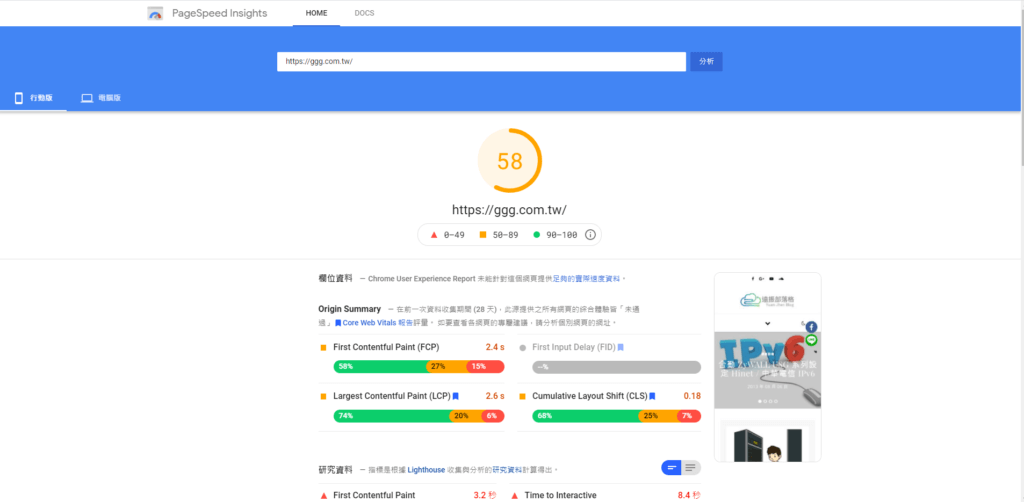 ▼ This is the result after activating WP Rocket (Mobile).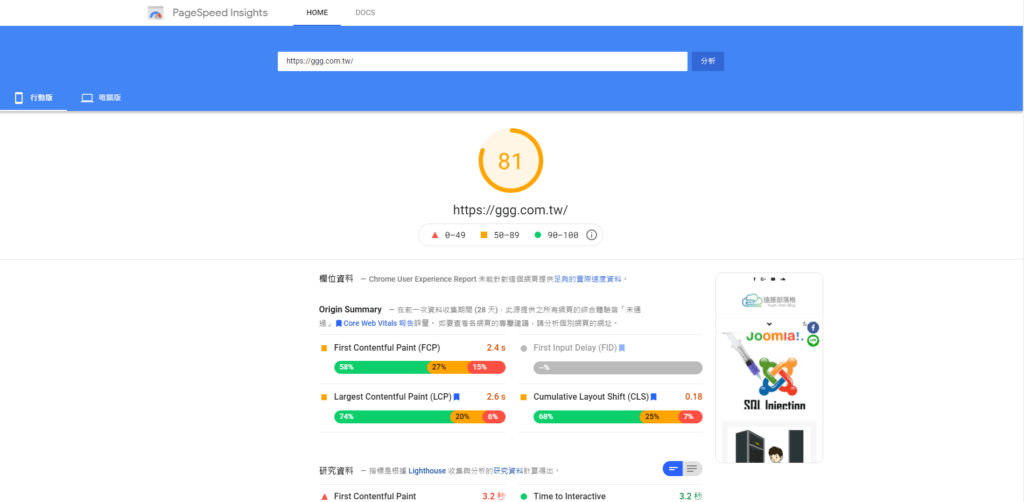 The test result is just a reference, the website admin should always focus on the real-time loading speed and whether the browsing experience is smooth and comfy for your viewers. Most importantly, you should always choose the right plugin according to your website and purchase the legal and authorized WordPress plugin.
▶ To know more about the WordPress plugins ➜ LiteSpeed Cache to speed up your WordPress website.
▶ To learn more about How to intstall WordPress on WordPress Hosting ➜ WordPress Installation