What are URLs, domain names?
A URL stands for the Uniform Resource Locator, it's the address of your webpage that people type in the browser address bar to visit your website. It's also called a web address. The format of an URL will be: protocol + subdomain + domain + path + filename. A domain name is a part of the URL, is a user-friendly text form of IP address. For example https://host.com.tw/domain-registration Like this URL, host.com.tw is a domain, and it's much easier to remember instead of a long IP number.
What is a subdomain? The difference between a subdomain and a subdirectory?
Subdomain is an extension of your main domain name, its position before the domain, like store.host.com. Store.host.com is the subdomain of host.com, some URLs include www, this prefix is also called the subdomain. A subdomain is often used for child-site under the same main domain name or special content that needs to be made separately from the main website like blog, marketing campaign pages, shopping cart pages, etc.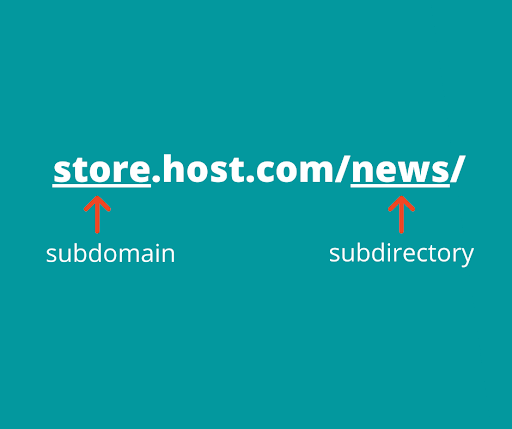 A subdirectory (or subfolder), in the URL address, the category is positioned after the domain and extensions and is preceded by a slash symbol. It allows you to create a folder that has the same server as the main domain. Unlike subdirectory, subdomain has a different server and it's independent.
What is a Top-level domain? How to choose TLD?
A top-level domain (TLD) is the last segment of a domain name, the part that follows after the final dot of a domain name. With this domain name google.com, .com is the top-level domain. A top-level domain recognizes a certain element regarding the associated website, such as its objective (business, government, education), or the geographical area from which it originated. TLDs themselves are also classified into one of several groups and some of them are reserved for specific situations.
.com is usually used for commercials, .org for organization, .edu for education and .gov for government agencies, etc.
Otherwise, not all TLDs are registered by an individual, you'll see some domain names with a specific country like host.com.tw , .com.tw is a second-level domain for Taiwan, which is the domain for commercial enterprises in Taiwan, you need to have a company registration number to complete the registration.
Mistakes to avoid when registering a domain name
1. Price – Do not pay too much
Shoppers will be attracted by bargains, so some domain registrars often offer a first-year at an extremely low cost then charge a higher fee when renewal. Or you can transfer your domain to another registrar with a lower subscription fee, but there are some issues that need to be concerned such as hidden fees or your website will get affected while processing domain transfer, your visitors can not reach a website smoothly, or even SEO will be affected.
Before you decide to purchase a domain name, you also should review "Terms of Service" carefully, obligations, add-ons fee, extra fee or hidden fees. And you may ask the domain registrar if they provide DNS (Domain Name System) server hosting, that helps you reducing the IT costs for setup and management.
2. Choose a good domain
Choosing a good domain is the first step to building your business, no matter what is your domain name, top domain name, or subdomain, you need to think about a domain name that references your business or your website content.
As always, your domain name is not hard to spell, not too many characters, and you should choose a popular TLD, it can improve your website impressions and be easy to remember.
3. Avoid trademarked words
Before registering a domain name, you should do some research and make sure your domain name doesn't include any registered trademarks.
4. Check a domain's history
You may choose a domain name that previously expires because the name is relevant to your business or your website content. If you register such a domain, you should check its history to ensure it has not been associated with scam/phishing pages, illegal trade, or spreading malware.
▶ Registration and purchase a new domain