WPS Hide Login is one of the popular plugins to protect WordPress websites. Are you looking for an effective and easy way to protect your admin page? If so, you can use this plugin to change the location of the login page. You can hide your WordPress login page or the admin login.
What is WPS Hide Login?
WPS Hide Login is the plugin that allows you to install on WordPress website, to strengthen your WordPress security. With this plugin, you can change the location of your WordPress login and can prevent people from trying your login password through the WordPress login URL /wp-login.php and/wp-admin.php. Hackers can even use an automated scanning tool to guess the login account password and easily invade your website background.
WPS Hide Login Features
Usually, we can reachthe WordPress admin page by the default way is enter this URL: "domain name+/wp-login.php or /wp-admin.php," as shown in the following example. Everyone can log in to your dashboard to guess your login password!
Http(s)://your-domain/wp-login.php
Http(s)://your-domain/wp-admin.php
After installing the plugin, the default wp-login and wp-admin login paths of WordPress will be disabled and replaced with your custom login URLs. If the plugin is deactivated, the default URL of wp-login and wp-admin will get back.

How to use the WPS Hide Login
①. Install WPS Hide Login
Search for "WPS Hide Login" in "Add Plugins" in the available search box in WordPress, then click the "Install Now" button to install the plugins.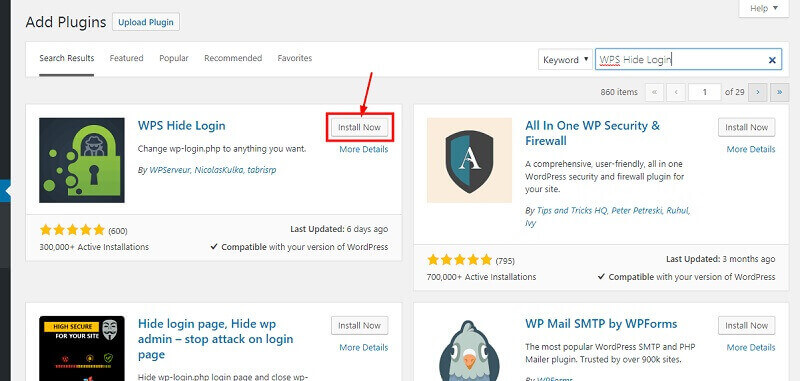 ②. Activate WPS Hide Login
After installing the plugin, activate it by clicking "Activate." You can also deactivate or activate the plugin later in "Installed Plugins."

WPS Hide Login Tutorial
①. Setting WPS Hide Login
Once the plugin has been installed and activated, click "Settings" to navigate the WPS Hide Login main setting page.

②. Customize the login URL
You can change the WordPress login admin URL by inserting your expected URL login path into the "Login url" once you are at the plugin setting page, you will use this URL login to WordPress dashboard.
You can also change a redirection URL. "Redirect URL" will display 404; the original WordPress default login page will say 404, indicating that this page no longer exists. You can change both of these setting if you want.

After finishing the setting, please don't forget to "Save Changes" and memorize them for login to the WordPress admin page next time.
If you want all the settings get back to a default setting, just simple deactivate the plugin, the default login URL should be "www.yourdomain/wp-login.php" and "www.yourdomain/wp-admin.
Right now, you're all set on an effective way to protect your WordPress site, and you can also refer to Top 5 WordPress Security Plugins 2022 for more ways to secure and strengthen your WordPress website. For hosting, consider using Yuan Jhen WordPress Hosting to speed up and optimize your WordPress website. WordPress hosting plans include a free SSL certificate, WAF firewalls, malware scanner, etc. You can enjoy excellent quality and affordable hosting services at Yuan Jhen.