What is Web Analytics?
Web Analytics involves collecting, reporting, and analyzing website data. Using WordPress analytics plugins can help you understand your website performance better. These tools help you improve your product or service and drive business growth. 
There are many reasons you should employ WordPress Analytics plugins for your website. Statistics like the number of visitors, location, and on-page activity can all be learned using the right WordPress analytics plugins. It also helps you to:
Improve your marketing strategies

Identify your site's visitors

Review website conversions

Enhance the user experience on the website

Improve your search engine placement

Recognize and improve referral sources

Increased online sales
How Can You Analyze Your WordPress Website?
Building a quick and secure website might be much work. However, you are already ten steps ahead of the competition with an efficient hosting service, a properly customized theme, and the right WordPress analytics plugins. You can easily collect and analyze detailed data to help you make informed decisions that can help your business grow and outperform your competitors. 
There are simple steps you can follow to ensure that your WordPress site performs to its best potential. While some people generally rely on the WordPress plugin for Google Analytics to monitor their website statistics, you can use several other WordPress plugins to measure the engagement and assess your marketing strategy.
What Are The Best WordPress Analytics Plugins?
Every month, new plugins are released. It becomes difficult to choose which ones best suit your business needs. Here, we have compiled a detailed list of the best WordPress analytics plugins, highlighting their features, price, pros, and cons so that you can make an informed choice.
WP Statistics
WP Statistics is a simple and powerful plugin with an intuitive interface that shows charts and graphs brilliantly. It focuses on stats and keeps your data private. It does not require any add-ons, as you simply need to install and activate it, and you are all set.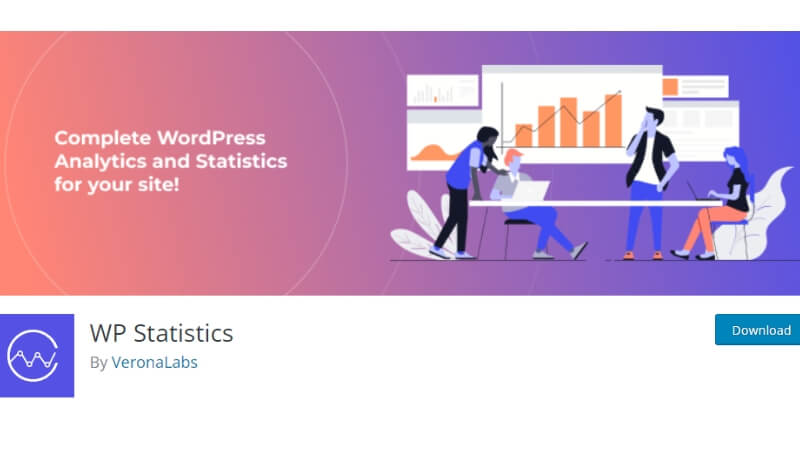 WP Statistics gives you your site stats in real time and specializes in content reports and geographical data. The plugin is highly sought after because it is free and packed with all the standard features you expect from a top-performing analytics plugin. 
Price: Free.
Pros
Tracks email performance statistics.

Ability to track and identify incoming website traffic.
Cons
Pro features come at a cost.
(GA) Google Analytics Plugin For WordPress
Several people use Google Analytics plugin for WordPress as an alternative to other plugins like Analytify and MonsterInsights. It adds a code to the pages on your WordPress site, so you have all your website stats in Google Analytics.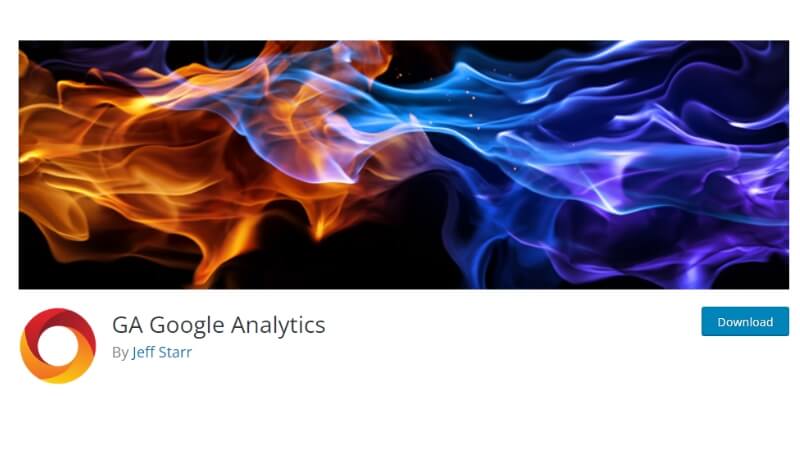 Google Analytics for WordPress is best for complex websites packed with several pages, as you do not need to insert codes on every page manually. This plugin is just right for you if you desire analytics that stays on your WordPress dashboard and keeps it lightweight.
Although a free version offers standard analytics services, a premium plan gives users several advanced features, including multiple tracking code configurations and opt-out for visitors. Other premium features include custom codes and the ability to disallow tracking on logged-in users, user roles, type of posts, and post IDs.
Price: It has a free plan and a paid version with a one-time payment of $20 for each site.
Pros
Easy to use.

Supports all tracking scripts.
Cons
Not suitable for pro users as it gives simplified data.
HubSpot
Hubspot is another top-rated WordPress analytics plugin for site analytics. It is also top-rated for its CRM and marketing proficiencies. Originally made for large-scale enterprises, HubSpot helps users better engage with their site visitors. The latest version allows multiple software integrations, including Google Analytics and marketing and operations tools. 
Hubspot helps you analyze your website traffic with detailed filters of your content's performance, including page views and bounce rate. Users may also design captivating forms and pop-ups with a simple drag-and-drop interface.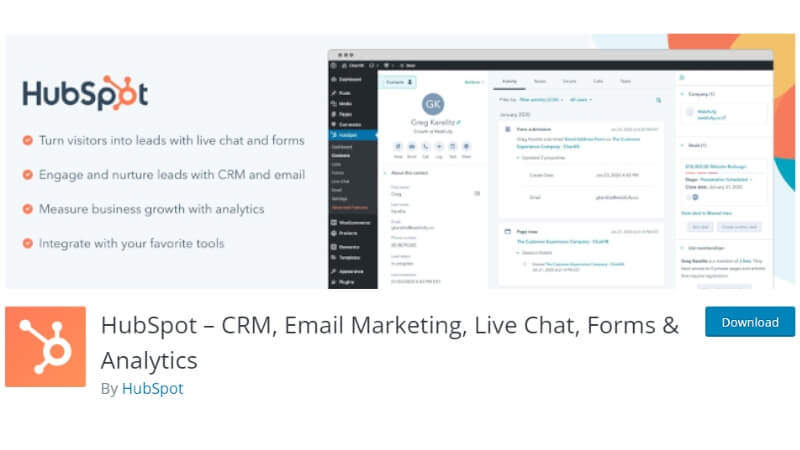 You can set up specific content campaigns and analyze aspects that need to be improved on to reach your goals. You can also understand your site visitors better and filter leads into cold and hot so you can focus on those you can convert. 
With all these outstanding features, HubSpot allows you to automate repetitive tasks, such as sending emails and reminders when visitors take action on your site. 
Price: Freemium. Paid plans start at $45 a month.
Pros
Great for businesses that need an all-in-one solution.
Cons
Users may get overwhelmed with its many extra features as Hubspot's tools do not only focus on analytics. 
Analytify
Analytify is another easy-to-set-up analytics plugin popular among WordPress users. You can install all the features at once and have all your website data within your WordPress dashboard. You may choose to view data for your entire site or per page or post published.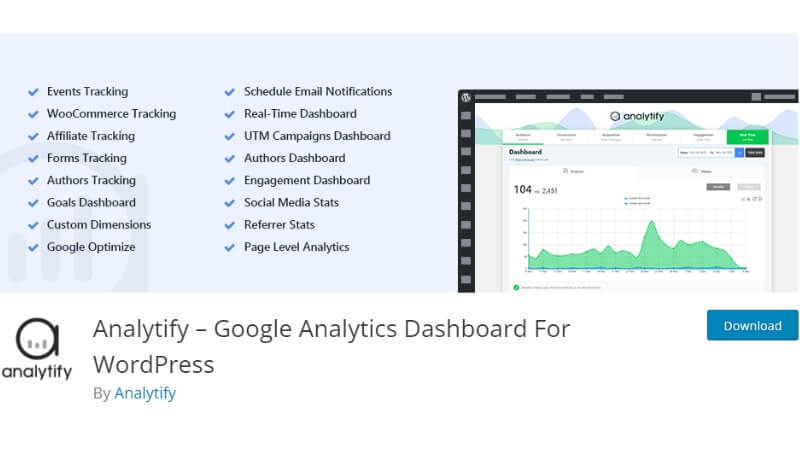 Analytify simplifies complex data by presenting it in an easy format to understand audience behavior better. There are add-ons for extra services. For instance, Campaigns help track your website statistics in real time. It shows you from which social media your traffic comes. If you have a WooCommerce account, an add-on enhances eCommerce tracking and data.
Price: Price starts at about $60 a year per site.
Pros
Customizable price structure

Accurate and concise results directly from your WordPress dashboard
Cons
It does not allow file tracking.
Matomo
Matomo is an open-source analytics plugin, formerly called Piwik. It gives users detailed reports on your website traffic sources, visitors, keywords, and other metrics. The plugin installs a tracking code and shows your site's data in your WordPress dashboard.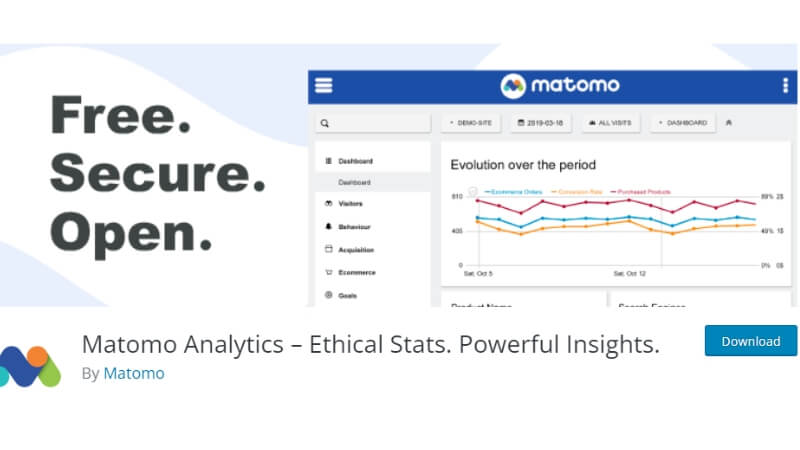 Its advanced features allow users to track visitors in real time or from the visitors' logs. It has several other features, including managing multiple sites. Matomo also comes with a mobile app to access your reports and data on the go. 
Price: Starts at $9 a month
Pros
Easy to redesign dashboard

It is a GDPR complaint

Provides top-quality data

Shows your sites heatmap

Easily track daily data and visitor traffic.
Cons
It does not provide A/B testing

No defined views for clients
Crazy Egg
Crazy Egg is a premium tool that integrates with and adds a tracking code to your WordPress site using a free WordPress plugin. Unlike other analytics plugins, Crazy Egg provides extra features like snapshots, screen recordings of your site, and heat maps. Thus, you can monitor your site visitors' actions using heatmaps and screen recordings in real-time.
Heatmaps show the parts of your web page that get the most action/mouse clicks. It also shows you the areas users give the most focus. Screen recordings give you details of the various obstacles your site's visitors may encounter. It helps you identify such problems, work on them and improve your conversion rate.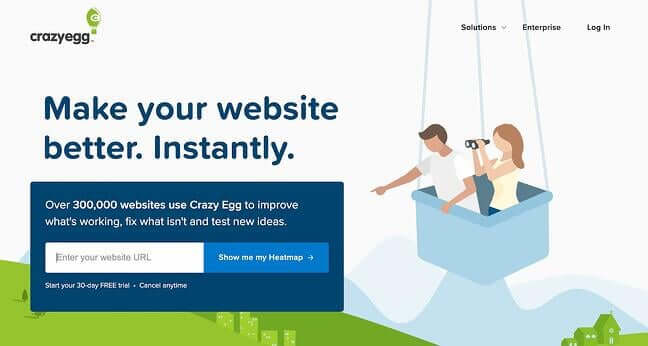 Crazy Egg is a great alternative to Google Analytics as it is good for conversion optimization and is a great tool for those building or completing their website design. It allows thorough A/B testing that analyzes various variables, including copy, color, and content placement. This can greatly increase campaign results by increasing conversions and improving user experience.
Price: 
Basic plan costs $24 per month.

Standard plan goes for $49 per month.

Plus plan costs $99 per month.

Pro plan for $249/month. There are also plans for enterprise needs. 
Pros
It shows visual maps of your visitors' actions on your site.

Offers A/B testing.

It has a 30-day trial period with all features for you to decide if it suits your needs.

Easy to get started and integrate.
Cons
It is too broad, so it might be difficult to target some key features.
ExactMetrics
It is no surprise that ExactMetrics has over a million active installs as they provide detailed and in-depth site data. Just like Analytify, all your data is contained in your WordPress dashboard. It provides eCommerce tracking and lets you view individual pages and posts. Detailed reports give you a view of every data from mobile analytics, social media traffic, bounce rates, and page views.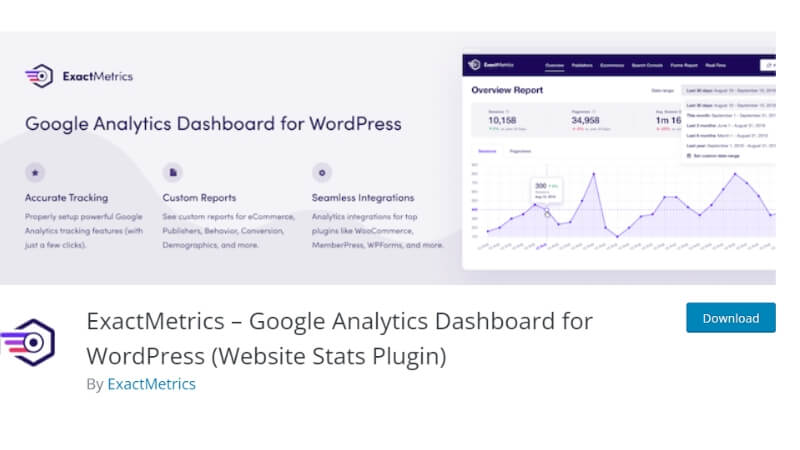 ExactMetrics can be easily set up without requiring the services of a code professional. It is best suited for professionals but can also be used by beginners with little or no experience. The plugin syncs seamlessly with your website and instantly provides the necessary data for your business growth. 
Price: For smaller businesses, there is a plan that starts at $100 a year. There are more extensive plans for large-scale businesses.  
Pros
Very thorough and in-depth.
Cons
Jetpack
Jetpack is an all-in-one WordPress analytics plugin with tons of marketing, security, and speed analysis features. It relays your website statistics from a simple interface that offers a good overview of your site's performance. However, you can not delve deep into data for individual posts and pages. 
The highest-paid plan comes with Jetpack's Growth toolkit, which allows you to integrate Google Analytics. This plan gives you your website statistics and a complete suite of design, growth, and security tools. In essence, it can perform several plugin tasks at once. As with every WordPress.com tool, JetPack comes with detailed troubleshooting and support. 
Price: Free with premium features for $29.95 per month
Pros
Allows you to add essential features conveniently

The main Jetpack plugin is free

Provides frequent updates
Cons
The plugin has several features, so it might be difficult to use.
MonsterInsights
With over two million active professional users, MonsterInsights is another top-rated analytics plugin. It provides users with detailed and accurate data that helps you analyze your site visitors, their locations, the device used, and more. You can monitor ad tracking and affiliate links and access enhanced eCommerce tracking.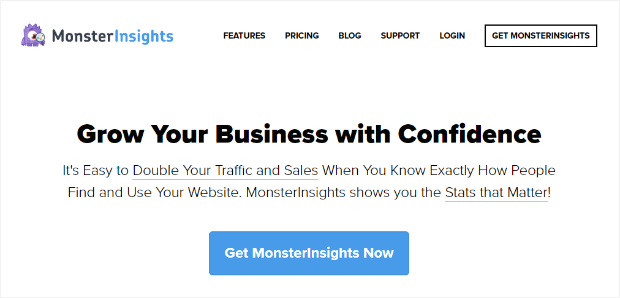 MonsterInsights is GDPR compliant. It also gives you a general view of your website statistics and data for specific pages. For event tracking, you can seamlessly monitor file downloads, scroll depth, form submissions, and more. All these are automatically set up and tracked by the plugin, which makes MonsterInsiht easy to use and preferred by beginners with minimal understanding of analytics. 
Price: There are four plans: 
Free plan

Plus plan for $99.50 a year

Pro plan for $199.50 a year 

Agency plan for $399.50 a year
Pros
Comprehensive data

There is an abundance of available data

Insightful reports
Cons
The free version is limited
WPFlow
Although WPFlow is less comprehensive than the other plugins on this list, it offers simple, useful tracking information. Formerly known as Google Analytics Events, this plugin lets you view your visitors' actions in real time. One standout feature is the ability to monitor when your visitors play an embedded video. 

WPFlow is great for users looking for an easy-to-use analytics tool. You can set up simple click events as forms, internal and external links, buttons, sliders, and images. You can also integrate it with YouTube and track video clicks. 
Price: It has a free package. Full features cost $79-199 a year.
Pros
Great for beginners.

Analytics is streamlined.
Cons
The setup is quite complex.
Benefits of WordPress Analytics Plugins?
Using the right WordPress Analytics plugins can help you pinpoint areas that need to be worked on and improved. In the long run, this helps you to make informed decisions and grow your business. Web analytics give you key insight into your site's visitors. The benefits of having a detailed insight and analysis of your website include the following:
It reveals the number of visitors to your site and their actions. It shows which clicks are most common and which areas are less active. 

It gives you an understanding of your most popular pages and the product or services your visitors are most interested in.

It shows you where your website traffic comes from, for instance, from search engines, adverts, referral links, or social media. 

For blogs, it shows where your readers click when reading your content and the posts that perform best and the least.

For marketing, it gives you a detailed insight into how well your campaigns are performing.
A reliable WordPress analytics plugin provides these data in a simplified manner and helps users make better decisions for their websites. This translates to increased traffic, customers, and sales conversions.  
Which WordPress Analytics Plugins Are Best For You?
When choosing the best WordPress analytics plugins for your website, you should take note of and choose those that align with your business needs. Some key factors you should consider:
Credibility, 

Support

Ease of use

Price

Documentation and tutorials
It would be best to determine your experience and proficiency level with analytics. As a beginner, you should choose plugins that are best suited for beginners and require no professional skills to set up. If you are well experienced, you can select the most professional plugin that will serve you the most. 
Finally, make sure you understand what tracking features your site needs. There are internal link tracking, form tracking, button tracking, and so much more. As a beginner, you should consider plugins that can easily set up tracking events and present data in a simplified format. To help you make an informed choice, here are the top 10 FAQs on WordPress plugins.