Are you looking for the best ways to create a landing page in WordPress? 
Wonder no more! In this article, we're going to show you how easy it is to create a landing page for your business—no coding required. You don't even need to know how to use WordPress, as we'll be walking you through the entire process from start to finish.
If you're using WordPress to build your website, creating a landing page is easy and straightforward. Let's take you through a step-by-step guide on how to create a landing page in WordPress. 
Whether you're a beginner or an experienced user, you'll find the tips and tricks we provide in this post helpful in creating a high-converting landing page for your website. So, let's get started!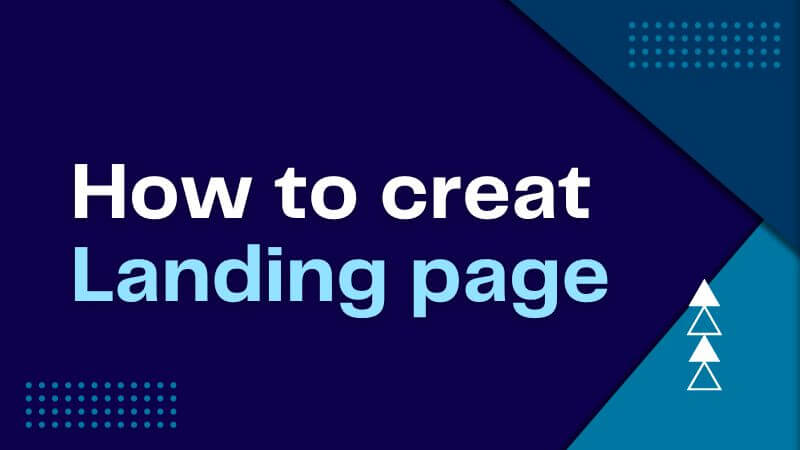 What is a Landing Page in WordPress?
When it comes to creating a website, the landing page is one of the most important elements to consider. A landing page is typically the first page a visitor sees when they arrive at your website and it plays a crucial role in converting those visitors into customers. 
WordPress offers a user-friendly interface and a wide range of tools and plugins that make it easy to design and build landing pages without any coding knowledge.
The primary goal of a landing page is to engage visitors and motivate them to take a desired action, such as signing up for a newsletter, downloading an ebook, making a purchase, or filling out a contact form. To achieve this, landing pages are typically designed to be visually appealing, concise, and optimized for conversions.
Why is a Landing Page Important?
A landing page holds significant importance in the world of online marketing and website optimization. Here are a few reasons why a landing page is crucial for your website:
Conversion Focus:
A landing page allows you to focus on a specific conversion goal. Unlike a traditional website with multiple pages and distractions, a landing page is designed with a singular objective in mind, guiding visitors toward taking a specific action. This focused approach increases the chances of converting your visitors into leads or customers.
Enhanced User Experience:
Landing pages are crafted to provide a streamlined and user-friendly experience. By eliminating unnecessary navigation menus and irrelevant information, you can create a seamless path for visitors to follow, leading them directly to the desired action. This improved user experience encourages engagement and boosts conversions.
Targeted Marketing Campaigns:
Landing pages are an ideal tool for targeted marketing campaigns. Whether you're running a pay-per-click (PPC) ad campaign or launching a new product, you can create dedicated landing pages that align with your campaign's messaging and offers. By aligning your landing page content with your marketing campaign, you can increase relevance and improve conversion rates.
Data Collection and Analysis:
Landing pages provide an opportunity to collect valuable data about your visitors. Through forms and opt-in boxes on your landing page, you can gather important information such as email addresses, contact details, or specific preferences. This data allows you to better understand your audience, personalize your marketing efforts, and improve future campaigns.
Measurable Results and Optimization:
With a landing page, you can easily track and measure its performance. By utilizing analytics tools, you can monitor metrics such as conversion rates, bounce rates, and engagement levels. This data helps you identify areas for improvement, optimize your landing page, and refine your marketing strategies to achieve better results.
How to Create a Landing Page in WordPress Without Plugin
As you are already aware of the importance of a landing page, it's time to know how to create a landing page in WordPress. But how can you build a high-converting one in WordPress?
No worries. If you are currently utilizing a WordPress theme that resonates with your brand identity, you have the incredible opportunity to optimize it and transform it into a high-performing landing page. 
By making strategic modifications and replacing key elements, you can enhance its effectiveness in engaging your audience and driving conversions. Empower your website with a customized landing page that captures your attention and achieves your goals.
Here's how you can create a landing page in WordPress without any plugins — all you need is to use your theme and the knowledge of customizing your homepage. 
Choose a WordPress Theme
If you've already installed a WordPress theme, you just need to visit the dashboard of your WordPress site and click on the "Customize" button. 
Well, if you don't have any WordPress theme installed except the default one, you can click on Appearance > "Themes" to access the available themes. Browse through the themes and choose the one that suits your landing page requirements.
If you already have a theme installed, you can activate it by clicking on the three dots next to the theme's name and selecting "Activate." 
Remember to choose a theme that is visually appealing, responsive, and offers customization options to tailor it to your landing page's needs.
Remove Default Content
As you are planning to create a new landing page, you should remove the existing content from the homepage of your site. To remove extra posts and pages from your WordPress landing page, follow these steps:
Log in to your WordPress dashboard.

Go to "My Site" and select "Site" from the menu.

Click on "Pages" to access your website's pages.

Review the list of pages and identify the ones that are unnecessary for your landing page.

To delete a page, click on the three dots (ellipsis) next to the page you want to remove.

From the options that appear, click on "Trash."

Repeat this process for any other pages you want to remove.

Keep in mind that it doesn't matter which page you choose to keep, as long as it aligns with the purpose of your landing page.
By removing extra posts and pages, you streamline your landing page and create a more focused and simplified user experience for your visitors.
Add a New Page
You can create a separate page and make it the "homepage" before designing your new landing page. However, you can choose any existing page and convert it into the Homepage. 
Customize the Landing Page With the WordPress Editor
Now, you have a homepage ready for your site. It's time to design it and make it a catchy landing page in WordPress. As we are not going to use any plugins at this stage, you don't need to worry about installing any landing page plugins. 
All you need is to design your WordPress landing page using the default elements such as Widgets, Text, Images, Call To Action, Contact Form, etc. However, you can also use Gutenberg elements to design your landing page. In fact, some themes come with their pre-made or pre-installed block editor that makes the process of creating a stunning landing page in WordPress. 
Go live
Congratulations! You've successfully designed a landing page in WordPress without any plugins. If you're happy with the design, go live with your website. 
How to Create a Landing Page in WordPress With a Plugin
Suppose that you want more simplicity while creating a landing page in WordPress. You don't want to think about design that much or you want some pre-designed templates to follow. What's the best solution to create a landing page in WordPress then?
Using a plugin, right?
Even beginners can create professional and compelling landing pages in WordPress thanks to the availability of user-friendly plugins that offer drag-and-drop builders and pre-made templates.
So, how can you create a landing page in WordPress using a plugin? Let's check it out: 
Install the Plugin
Installing a plugin is not that hard if you have the basics of using WordPress. However, before installing any plugin, one of the momentary questions arises: what is the best plugin for creating a landing page in WordPress?
There are some good landing page plugins available that you can use to design a landing page in WordPress. Here are some of the best plugins for creating a landing page:
This powerful builder plugin offers a wide range of features and stunning animation effects. With its intuitive drag-and-drop interface, you can easily create visually appealing and interactive landing pages.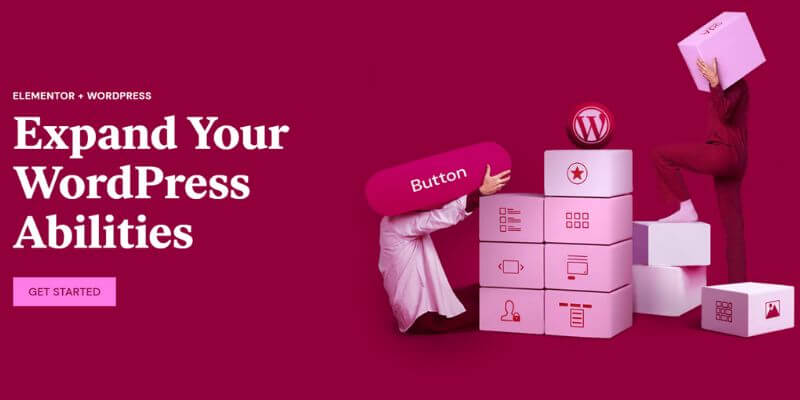 Known as one of the best WordPress page builders, Divi comes with an intuitive visual editor that allows you to design beautiful and responsive landing pages. It offers a vast library of pre-designed templates and customization options.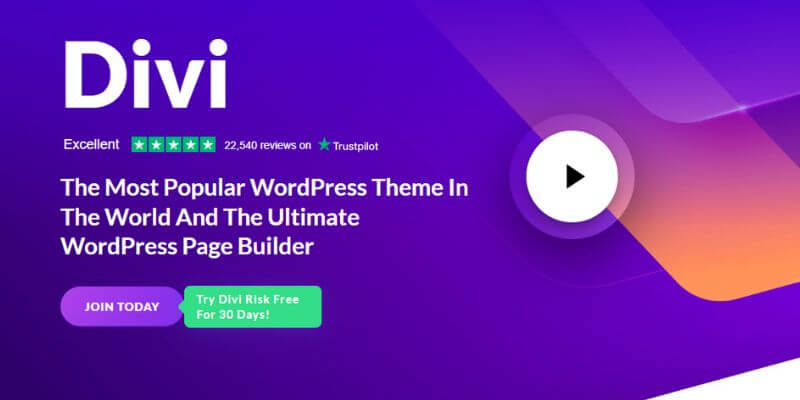 This intuitive landing page builder plugin seamlessly integrates with most WordPress themes. It provides a user-friendly interface and a range of modules to create professional-looking landing pages without any coding knowledge.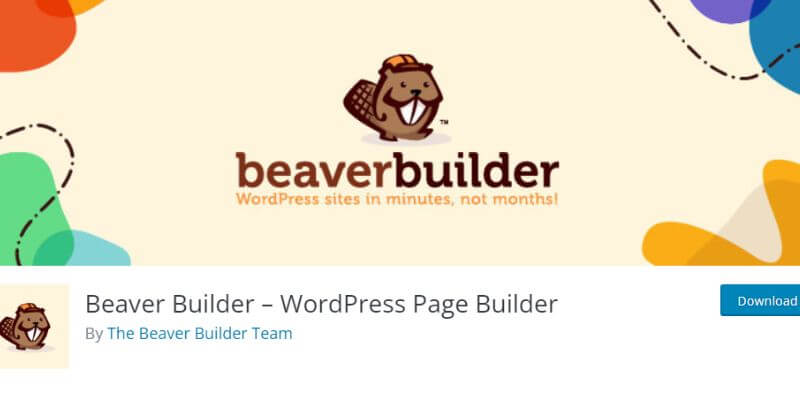 Considered one of the best WordPress plugins for landing pages, SeedProd offers a variety of design templates and a drag-and-drop page builder. It boasts a user-friendly interface, allowing you to create impressive landing pages quickly and easily.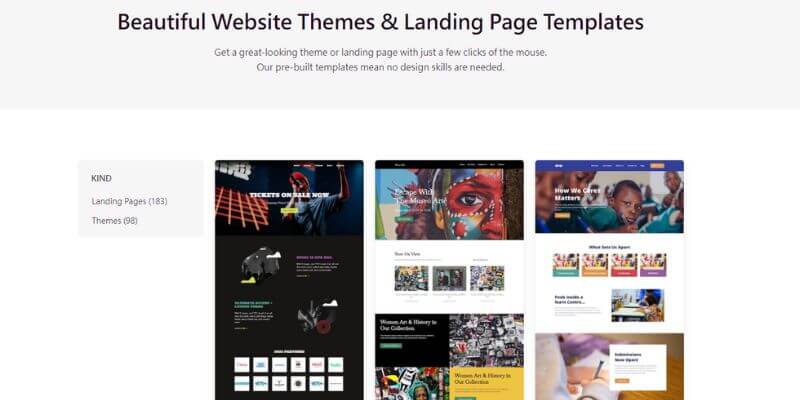 These plugins empower you to design and customize your landing pages with ease, regardless of your level of expertise. Each of them offers unique features and functionalities, so choose the one that best suits your requirements and preferences.
Learn more: 7 Best WordPress Landing Page Plugins
Creating a WordPress Landing Page Using SeedProd
We are going to use SeedProd to guide you on how to design a landing page in WordPress. To begin creating a high-converting landing page using the SeedProd plugin in WordPress, follow these steps: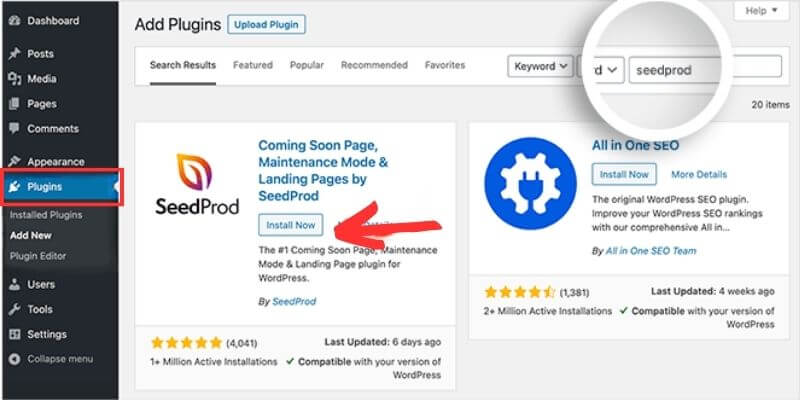 Log in to your WordPress dashboard.

Navigate to "Plugins" and click on "Add New."

In the search box, enter "SeedProd" and press enter.

Locate the SeedProd plugin from the search results.

Click on the "Install Now" button next to the SeedProd plugin.

After installation, click on the "Activate" button to activate the plugin.
By installing and activating the SeedProd plugin, you now have access to its features and functionalities, allowing you to create a powerful landing page for your WordPress site.
Note: SeedProd is a freemium plugin, which means it offers both free and premium versions. To unlock the premium features and access additional functionalities, you can purchase the premium version of SeedProd starting at $39.50 per year.
Add a New Landing Page
Once you activated the plugin, navigate to the SeedProd option from the left dashboard. Click on "Landing Pages" and you'll get four different page types that you can use for your website.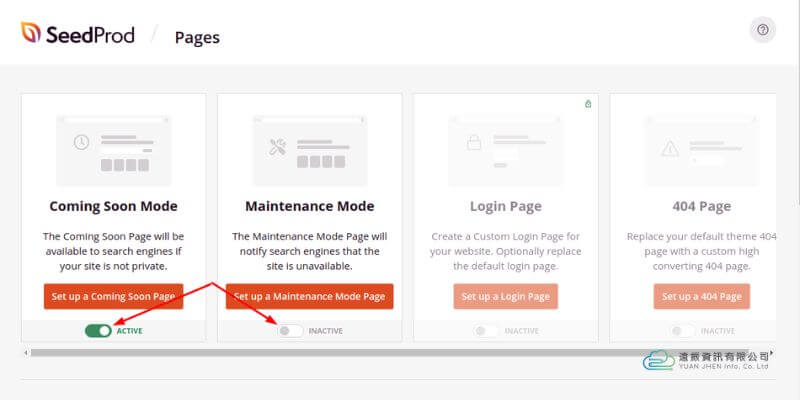 If you slightly move down, you will see a separate area for creating a landing page in WordPress using SeedProd. All you need is just to click on "Create New Landing Page" and start designing.

Select and Customize the Landing Page Template
Once you are in the design section, you can see a variety of pre-designed templates suitable for different types of campaigns. Browse through the available templates and choose the one that best aligns with your landing page's goals and aesthetic preferences.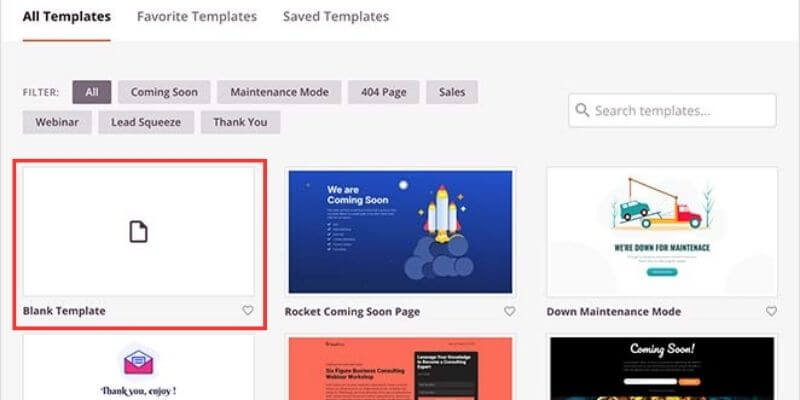 If you prefer to start from scratch without using a template, you can select the "Blank Template" option.
After selecting a template in SeedProd for your landing page, follow these steps to enter a page name and URL title:
On the SeedProd editor screen, locate the fields provided for entering the page name and URL title.

Enter a descriptive page name that represents your landing page's content or purpose. This name will help you identify the page within your WordPress dashboard.

In the URL title field, enter a URL-friendly version of the page name. It should be concise, relevant, and easy to understand. Avoid using spaces or special characters. Instead, use hyphens (-) to separate words.

Double-check the entered page name and URL title for accuracy and clarity.

Once you're satisfied, click on the "Save and start editing the page" button.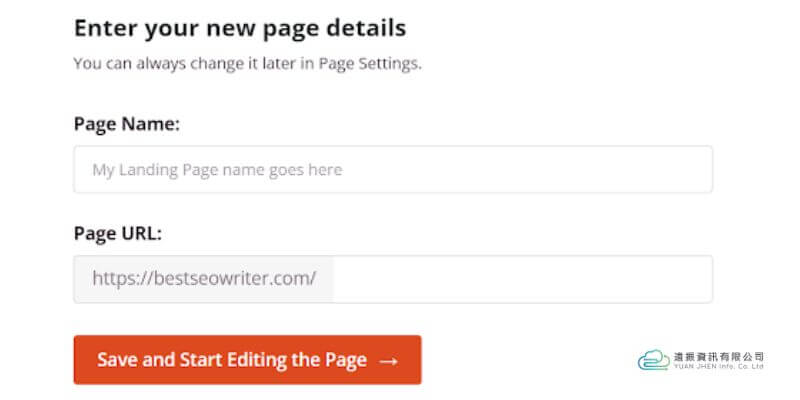 Once you are in the editing window, to match your branding, customize the background color, image, and alignment of your landing page. Alternatively, utilize the Global Setting option located at the bottom left corner.
Integrate Contact Form blocks with the WPForms plugin to transform a newly created WordPress form into a customized form landing page, benefiting from its additional features.
To duplicate a block, simply click on the icon of the file that appears when hovering over it. There are other icons available for deleting, moving, and saving blocks, streamlining your design process.
SeedProd provides a range of cohesive blocks called "Sections" that are commonly used together. These sections include a header, hero image, call to action, testimonials, contact form, FAQs, features, footer sections, and more, all of which aid in constructing an effective landing page.
To explore the available sections, click on the "Sections" tab. You can preview a section by hovering your mouse over it and clicking on the magnifying glass icon.
Publish Your Landing Page in WordPress
Congratulations! You now understand how to create a landing page in WordPress using a plugin. It's time to publish the page so that visitors can take a look at your stunning landing page. 
Integrate Your Landing Page With Third-Party Tools
Many businesses utilize a variety of tools to enhance customer acquisition and boost their revenue. You can use your landing page builder to seamlessly integrate with popular marketing tools, thereby improving the performance of your campaigns. Here are some recommended third-party tools offered by SeedProd:
As one of the most widely used email marketing services, MailChimp provides an autoresponder feature that automates email responses.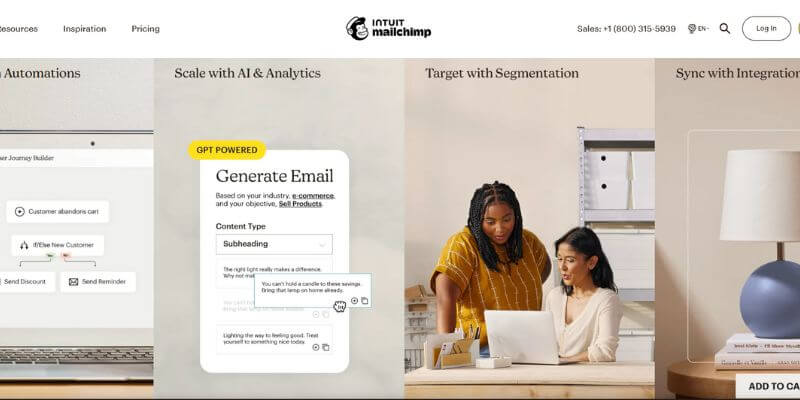 This email marketing tool offers a user-friendly drag-and-drop builder and a vast selection of email templates, simplifying the process of creating engaging emails.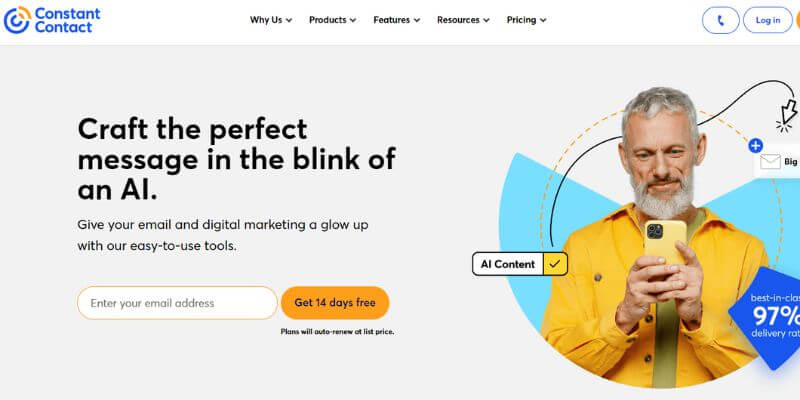 Considered the leading Google Analytics tool, Monsterinsights provides valuable insights into your website's performance, enabling you to make data-driven decisions.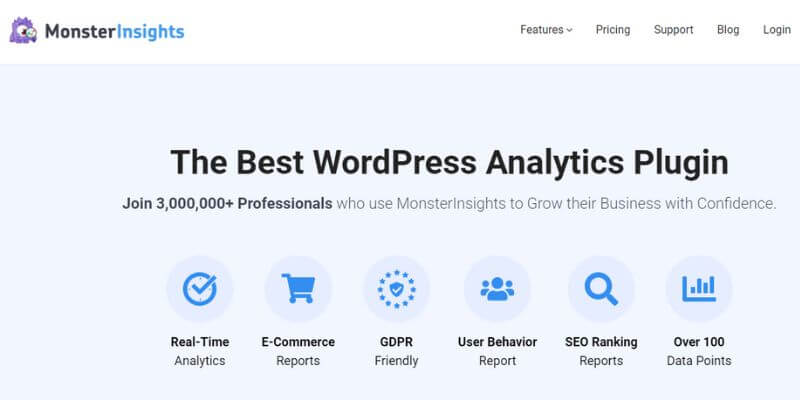 With integration capabilities for over 500 services, Zapier is an automation tool that streamlines the process of collecting emails from your sign-up forms.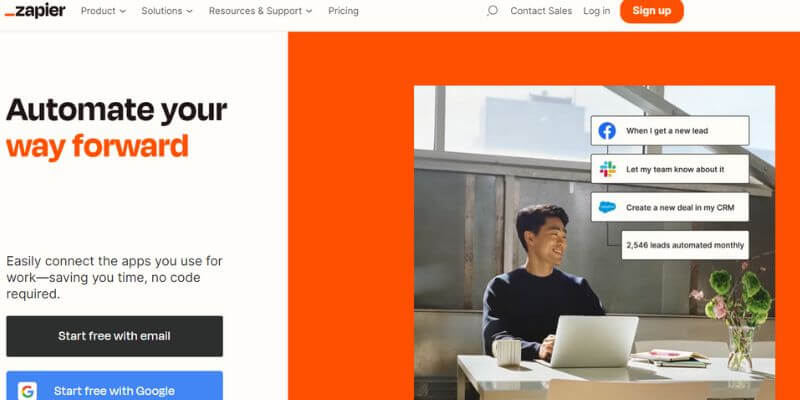 Learn more: WordPress Plugins for Email Marketing – WordPress Email Plugins
Testing and Analyzing Your Landing Page
Creating a landing page in WordPress is just the beginning of your marketing journey. Testing and analyzing your landing page is the key to optimizing its performance and maximizing conversions. 
By using A/B testing, analyzing user behavior, and leveraging tools and feedback, you can continuously improve your landing page and achieve better results. Remember, testing is a continuous process, so keep experimenting and refining to drive success. Let's check out some of the popular methods of testing and analyzing a landing page: 
Define Clear Objectives

: Before conducting any tests, it's essential to establish clear objectives for your landing page. Are you aiming to increase click-through rates, generate leads, or drive sales? Defining specific goals will help you measure success accurately.

Define Clear Objectives

A/B Testing: Implement A/B testing to compare different variations of your landing page. Create multiple versions with varying elements such as headlines, call-to-action buttons, layouts, and images. Test them simultaneously, and analyze the performance metrics to identify the most effective version.

Analyze User Behavior

: Leverage tools like Google Analytics to gain insights into user behavior on your landing page. Analyze metrics such as bounce rate, time spent on the page, and conversion rates. This data will help you understand how visitors engage with your content and identify areas for improvement.

Heatmaps and Click Tracking

: Heatmap tools provide visual representations of where users click and interact the most on your landing page. By analyzing these heatmaps and click-tracking data, you can optimize the placement of key elements and CTAs to maximize conversions.

Conversion Funnel Analysis

: Examine your landing page's position in the conversion funnel. Identify potential drop-off points where visitors abandon the process. Optimizing these areas by simplifying forms, reducing friction, or improving messaging can significantly impact your conversion rates.

Mobile Responsiveness

: Ensure your landing page is optimized for mobile devices. Test its performance across various screen sizes and resolutions. Mobile-friendly design is crucial as more users browse the internet on smartphones and tablets.

User Feedback and Surveys

: Collect feedback from visitors through surveys, feedback forms, or user testing sessions. This qualitative data can provide valuable insights into user preferences, pain points, and suggestions for improvement.

Continuous Iteration

: Testing and analyzing your landing page should be an ongoing process. Continuously monitor the performance, implement changes, and measure the impact. Small tweaks based on data-driven insights can lead to significant improvements over time.
Final Words – Creating a landing page in WordPress
Learning how to create a landing page in WordPress can be a valuable skill for anyone looking to establish a strong online presence. With the user-friendly interface and abundance of customizable options offered by WordPress, building an effective landing page has become more accessible than ever before. 
By following the step-by-step process outlined in this guide, individuals can harness the power of WordPress to create visually appealing and conversion-focused landing pages. By understanding the principles of persuasive design, utilizing the available tools and resources, and continuously refining your approach, you can create landing pages that captivate your audience and drive meaningful conversions. 
So, take the first step today, dive into WordPress, and start building landing pages that make a lasting impact on your online presence.

Explore WordPress Hosting plans for your WP site