Finally, flagship WordCamp is coming to Asia and returning to its usual format – physical WordCamp – after being canceled due to the Covid-19 pandemic. WordCamp Asia 2023 is Asia's first and largest WordCamp conference event in Asia.
As a result of our participation in the WordCamp Community, we are delighted to announce that Yuan Jhen Information is a proud Ari sponsor of WordCamp Asia 2023.
What is WordCamp – WordCamp Asia?
WordCamp is a community-organized event that takes place all over the world. The conference will focus on WordPress-related topics. WordCamp events feature a variety of speaker sessions and workshops aimed at encouraging collaboration, communication, and the WordPress community. These gatherings will bring WordPress users and contributors worldwide together to share knowledge, experience, and ideas.
WordCamps were held in many Asian cities, but there had yet to be a regional WordCamp.Therefore, WordCamp Asia 2023 is Asia's first flagship WordCamp. Previously, WordCamp US, WordCamp Europe, and WordCamp Centroamérica were flagship WordCamps.
Where take place WordCamp Asia 2023
Date: from 17-19 February 2023
Location: Bangkok, Thailand
Venue: TRUE ICON HALL at ICONSIAM
Proud being one of WordCamp Asia's sponsors
Yuan Jhen is thrilled to announce that we are proud sponsors of WordCamp Asia 2023 alongside some of the industry's biggest names, such as GoDaddy, Hostinger, Cloudways, and many others. 
We are also the only hosting provider in Northeast Asia to participate in this large-scale event, and we are excited to meet the WordPress community.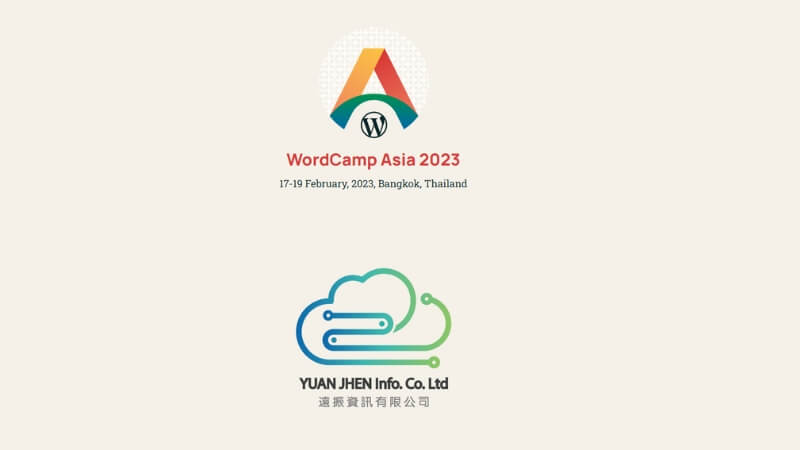 WordPress and Yuan Jhen
We are on a mission to provide high-quality services at reasonable prices, so we offer an optimized WP hosting plan to help you launch and grow your online presence using WordPress with minimal effort and effectiveness.
Built-in LiteSpeed Web Server 
Our WP hosting plan includes LiteSpeed Web Server, which can deliver faster web page loading times through functionality cache acceleration, data tuning, and automatic image compression.
Simple to use with one-click installation, automatic backup, restoration, and update. Moreover, there are WordPress pre-install plugins and a free plugin installation service.
Secure WP hosting
We have been ISO 27001 certified for many years, a well-known, internationally recognized specification for an Information Security Management System. We constantly strive daily to provide our clients with stable, reliable, secure hosting services. To keep your website safe and gain the trust of your visitors, the WP hosting plan will include:
A free SSL certificate.

Automatic malware scanner.

Web application firewall (WAF).

An additional Cloud AI-WAF.
WordCamp Asia 2023 Special Deal
We are delighted to announce that new users can get a 35% OFF on any WordPress hosting plan using the coupon code WCASIA2023
The special deal period: from February 15 to February 22, 2023 (GMT+8)
Terms
Only applicable to new uses during the promotional period.

Only applicable to hosting plans for WordPress: Taiwan WP Hosting and US WP Hosting.

This coupon code is only valid for the first 50 new users. If users exceed this account limit, the coupon code will become invalid.

This coupon code cannot be used in conjunction with other discounts: free website transfer, account opening US$5 credit, multiple plans hosting discounts, etc.

Use the coupon code when checkout. We cannot apply this coupon code to transactions already made outside of this deal period. 

Renewal plans or transfer plans do not apply to this event.

Renewal plan at the regular rate after the first year.

Yuan Jhen Information reserves the right to change or modify the event's content at any time, and the website announcement shall prevail.
Learn more about Taiwan hosting, US hosting 
Yuan Jhen's Booth at WordCamp Asia in Bangkok, Thailand
 We are ready for WordCamp Asia 2023, how about you? 
 If you are going to WordCamp Asia 2023, please come by our booth and say hello. There will be plenty of cool swags for you!
For more information and details, don't forget to follow us on Twitter.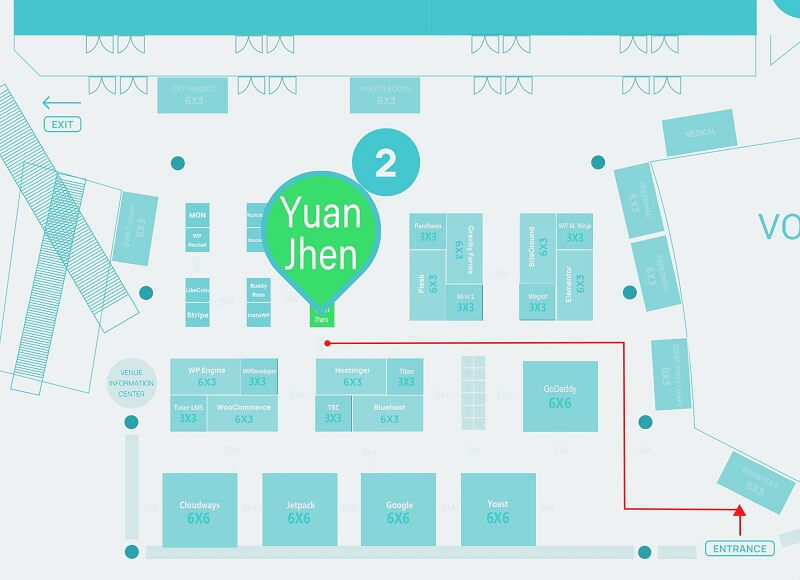 Learn more about Taiwan hosting, US hosting